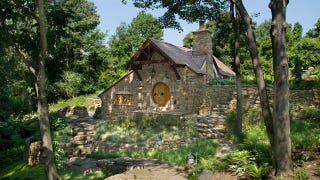 Shire-inspired houses are quaint, but they have a tendency to look like, well, a hole in the ground. When one collector of Tolkien manuscripts and artifacts wanted the perfect place to display his collection, he contracted with the architecture firm Archer & Buchanan to create a Hobbit home Bilbo Baggins could love.
Peter Archer designed this Pennsylvania Hobbit house using native stone, including reused stones from 18th-century fieldhouse walls, so while the building evokes Tolkien's designs, it also fits in with its setting. The house isn't built into a hill, but instead continues the circular motif in its windows, letting in plenty of natural light to read those books and manuscripts by (although there is also a human-sized door hidden around the side). And the house is filled with Tolkien and other fantasy-inspired touches that perfectly complement the art the owner is looking to display. Sadly, the house isn't an abode for Hobbits or humans; it's simply a place where the owner can enjoy his or her collection, a separate world of literature, art, and architecture they can step into from time to time.
All images by Archer & Buchanan.
"Hobbit House" Chester County, Pennsylvania [Archer & Buchanan via Core77]