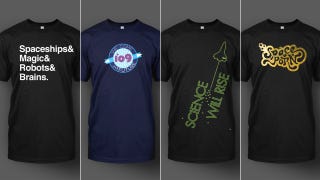 What's the best possible item you can get for yourself, your friends and family, the geeky kid down the block, and your 8-legged sparkleflax from Venus? An io9 t-shirt of course! We've got four awesome designs to choose from, created by io9's own Steph Fox and available only at 604Republic.
Collect them all to celebrate io9's 5-year anniversary in 2013!
Check out all four designs, and order yours now — they're only $18 each from 604Republic!
Here's a beautiful version of our logo, complete with zoomy spaceships! Buy at 604Republic.
Everything that we stand for. Buy at 604Republic.

Science will rise! And it will look like a 1980s computer terminal! Buy at 604Republic.

You've got to have a space porn shirt, because we all love to ogle galaxies, nebulae, star systems, and exoplanets! We brought back this favorite design from the last batch of tees we made a few years ago, and this time it's in classy gold! Buy at 604Republic.