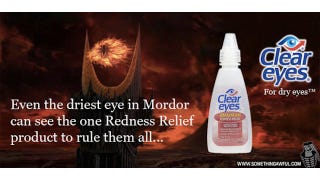 The Denny's/Hobbit second breakfast cross-promotion makes a weird kind of sense, even if it forces us to link J.R.R. Tolkien with Moon Over My Hammy. And the Hobbit slot machines have landed the movie's producers in hot Mordor with the Tolkien Estate. But are there other, even more bizarre cross-promotional possibilities that the Hobbit licensing team hasn't tapped? The Photoshoppers at the Something Awful forums try their worst to come up with sacrilegious Middle Earth marketing.
Top image by TheChaosDunk.
You can see more of these crazy, cruddy cross-promotion ideas at Something Awful. Cash for Gold and the one-man Gollum Miller Lite commercial are hilariously terrible notions, but now I desperately want someone to make a parody Hoarders video with dragons. Thanks for planting that bit of silliness in my brain, SA.
Hobbit Cross-Promotions! [Something Awful via Gamma Squad]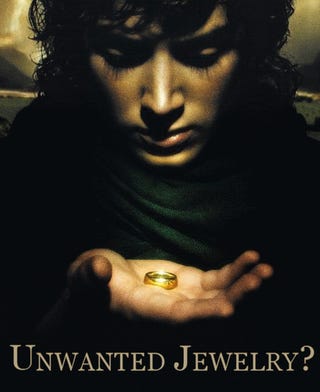 By Sir_Lagsalot
By Dr. Benway

By Gavok