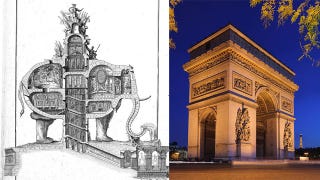 In 1758, 48 years before Napoleon commissioned the Arc de Triomphe, the architect Charles-François Ribart proposed constructing an elephant-shaped building on the very site where the future arc would stand. It's just one of the many possible alternatives for the familiar landmarks we see today.
Oobject has a list of 12 alternative designs for famous landmarks; apparently pyramids were a big thing for also-ran architects. London architects even proposed building a giant, pyramid-shaped necropolis on Primrose Hill.
Joseph Marzella created the second-place design for the Sydney Opera House, a concept that resembled a machine rather than the graceful shells of the constructed building.
With the Golden Gate Bridge, Joseph Strauss designed one of the most beautiful bridges in the world. But his original designe for the Bay-spanning bridge was not nearly as elegant.
12 Alternative Versions of Famous Monuments [Oobject via Neatorama]
Arc de Triomphe photo from Wikimedia Commons. Golden Gate photo from Wikimedia Commons. Photo of the Sydney Opera House from Wikimedia Commons.