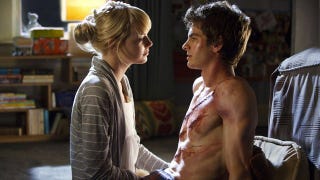 Director Marc Webb and his web shooters are coming back for The Amazing Spider-Man 2! Columbia Pictures president Doug Belgrad released this statement heralding the good news.
We could not be more confident in the direction we are taking this new Spider-Man storyline and we are tremendously excited to be ramping up production again with Marc at the helm and Andrew continuing on as Peter Parker. We can't wait to share what we have in store for Peter and Spider-Man with audiences worldwide.
Alex Kurtzman, Roberto Orci and former Fringe showrunner Jeff Pinkner are currently rewriting the sequel script penned originally by James Vanderbilt. Let's hope all the kinks get ironed out early this go round — since many people thought the first movie suffered excessively from last minute editing. (Even though we mostly enjoyed the film.)
Emma Stone is in talks to return. And if she does not come back to rekindle the fire of teen love throughout the universe's loins, then I will rip out all of my hair and hold my breath until she does.
Production is being planned for next year, with a release date of May 2014.
[via Slashfilm]