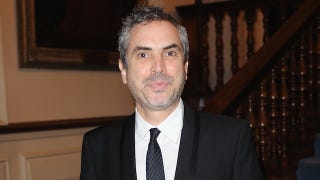 What happens when you pair Y Tu Mamá También, Children of Men, and Harry Potter and the Prisoner Of Azkaban director Alfonso Cuarón with J.J. Abrams? We don't know yet, but NBC has just ordered it as a supernatural pilot.
Deadline is reporting that the Oscar-nominated Cuarón has signed on to direct a "high-concept" pilot for NBC, which he will be co-producing with Abrams and co-writing with Mark Friedman. This will be Cuarón's first American television gig, and will pair a superpowered girl with her convict protector:
It is about a girl in possession of a great gift/powers - which will come into their own in seven years - and the man who is sprung from prison to protect her from those trying to hunt her down.
The plot isn't much to go on, but we're excited to see Cuarón dipping his toes into our television waters.
Photo by Samir Hussein from Getty.
Alfonso Cuarón-J.J. Abrams Drama Lands At NBC With Pilot Production Commitment [Deadline via Collider]