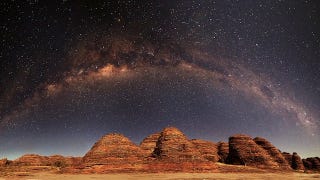 Even if you can't see the stars from where you'll be tonight, you can still enjoy this incredible panorama of the Milky Way taken by photographer Mike Salway. The galaxy glitters over the domes of Western Australia's Bungle Bungle formations
These layered sedimentary formations can be seen in Western Australia's Purnululu National Park. Here, they form the perfect nighttime complement to the Milky Way.
You can see a larger image as well as buy prints at Salway's website.
Milky Way Galaxy over the Domes of the Bungle Bungles [Mike Salway via APOD via It's Okay to be Smart]