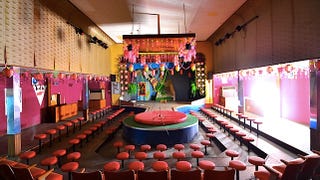 Somewhere in Japan's Okayama prefecture sits this crumbling "sightseeing theater," a.k.a. the euphemistic name for a strip club. The urban explorers at Abandoned Kansai visited these dingy ruins, which were mostly intact and displayed some interior design quirks. For example, one of the club's two stages was adorned with gallant eagles and dozens of orange stools that were uncomfortably close to one another. Note the explorers:
I guess there were about 150 of them, sometimes as little as maybe 15 centimeters between them. Thinking that in the probably not so distant past they were occupied by cigarette smoking sweaty horny men staring at naked women was quite surreal in the light of day [...The second] room was so cliché 70s porn it was tough to wrap my mind around it. The cheap pink plastic decoration was so horrible I felt a little bit embarrassed just looking at it, but I guess when it was dark and you focused on the stage it didn't matter.
You can read more about this dilapidated destination at Abandoned Kansai. For similar bizarre locales, here's another abandoned Japanese strip club and an entirely disconcerting sex museum.