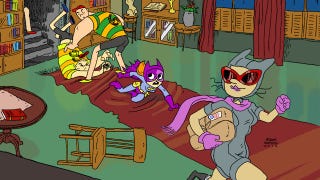 Batgirl has been trained by the world's greatest detective, which makes her the perfect subject for her own line of girl detective books in the vein of Nancy Drew. Cartoonist Adam Watson dreams up concept art for an imaginary series starring Barbara Gordon as a teenaged sleuth.
Although his first title for a Batgirl mystery is a bit silly (Hey Who Left This Door Open?), Watson pictures some cheerful scenes that would be perfect for an all-ages comic or a cartoon series. Lauren Faust's Super Best Friends Forever has me longing for more Batgirl on TV, and Watson's take on Batgirl could be just thing. Although a comic series would allow for nice sketches of things like Batgirl's detective kit.
Head over to Watson's Tumblr for more concept drawings.
The Batgirl Mysteries [The Might Adam via ComicsAlliance via The Mary Sue]