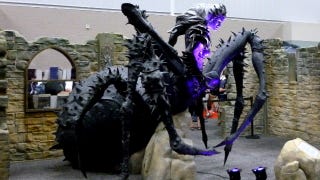 Gen Con is the biggest game convention in North America, held each August in Indianapolis — this year, it set a new attendance record, with a weekend turnstile number of 134,775 and more than 41,000 attendees. Feast your eyes on our exclusive photo gallery of amazing costumes, incredible games... and crazy gamer parties.
We'll have more detailed coverage next week on some of the big news coming out of Gen Con — like the future of D&D and Star Trek Catan. For now, soak in the atmosphere... including the dry-ice and heavy metal infused D&D keynote address, the outlandish Iron GM World Championship, giant game boards, zombies galore, a hand-sculpted giant Death Star battlefield, and custom brew pub offerings.
Additional photography by Eric Alderman and Meg Helmes.
An elaborate dungeon in the minis room.

Steam golem.

The inevitable Slave Leia/Black Widow slashfic crossover.

Balloon dragon.

D&D queen of the drow, Lolth.

Beauty is in the etc. etc.

Giant Settlers of America.

The D&D keynote address.

D&D bigwigs discussing big changes in the Forgotten Realms.

Unknown game, but it looks really cool.

Local brewpub's menu customized with a Warmachine theme.

Harley Quinn.

Jen Page, Lou Agresta, and some of the Iron GMs.

Twilight Creations: all about the zombies.

New Star Wars games from Fantasy Flight.

Hand-sculpted Death Star using Fantasy Flight's X-Wing minis game.

More X-Wing. Second series to include Millennium Falcon and Slave I.

Level 7: Escape, a dramatic alien conspiracy game from Privateer Press.

Star Trek Catan.

Zombicide.