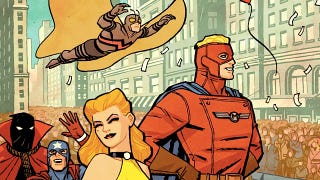 Here's an exclusive first look at the next issue of Before Watchmen — Before Watchmen: Minutemen, which features the handsome artwork of Darwyn Cooke.
In this miniseries, Cooke (Richard Stark's Parker, DC: The New Frontier) pens The Minutemen, the pulpy World War II superhero team who laid the groundwork for such unstable crime-stoppers as Rorschach. (Here's a conversation we had with Cooke last spring about this book.) This issue hits stores next Wednesday, August 29. The synopsis:
Before Watchmen: Minutemen #3
Written by: Darwyn Cooke
Backup Written by: Len Wein
Art by: Darwyn Cooke
Backup Art by: John Higgins
Cover by: Darwyn Cooke
Variant Cover by: Cliff Chiang

"I'm not here to bust you, I'm here to recruit you. How'd you like to work for your Uncle Sam, Eddie?" And don't miss the latest chapter of the Crimson Corsair backup epic from writer Len Wein and artist John Higgins!