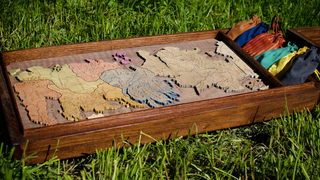 In my experience, Risk is a board game that erodes friendships (only slightly more quickly than Settlers of Catan) and has the power to bring an wintry silence over the room (Settlers is the harbinger of yelling).
So it's rather appropriate Fay Helfer that has taken the geopolitical machinations of Westeros and applied them to Parker Brothers' famed relationship-destroyer. Which region is Westeros' Kamchatka? Riverrun is game to you? I hope this never goes into mass production, otherwise everyone I know will be tossing each other out the Moon Door. Hat tip to Ian.
Related and Pertinent: io9's very own Game of Thronesopoly.