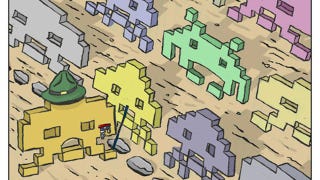 It's so easy to shoot at Space Invaders, isn't it? Those pixelated aliens want nothing more than to descend upon the Earth, one line at a time. But what if it turns out that Space Invaders are just like us?
Ehud Lavski's The Invader takes the familiar trope of humanizing the enemy soldier and turns it slightly absurd with its straightfaced replacement of human beings with blocky aliens. But that absurdity doesn't keep its final moments from being quite sad.
The first three pages are below. You can ready the rest on Lavski's Tumblr.
The Invader [via Bleeding Cool]