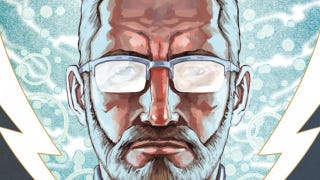 Courtesy of IDW Publishing, here's an exclusive sneak peek of the upcoming issue of the urban fantasy Smoke and Mirrors, which sees protagonist and stage magician Terry Ward unwittingly foisted into a world where sorcery exists. This issue hits the stands Wednesday, July 11. Here's a synopsis:
SMOKE AND MIRRORS #4
Mike Costa & Jon Armstrong (w) Ryan Browne (a) Browne (c)

Face to face with his darkest fears, Terry confronts the Trade Circle-and they want answers! In a world where magic is real, how can a sleight of hand artist compete with users of practical spells? And why are they afraid of Terry!?