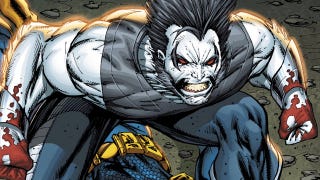 Courtesy of DC Comics, here's an exclusive sneak peek at next week's issue of Deathstroke, which features the interstellar mercenary Lobo and ex-X-Force illustrator Rob Liefeld on artwork and scripts. This issue hits stores on Wednesday, July 11 — here's the rundown:
Deathstroke #11
Written by: Rob Liefeld
Art by: Rob Liefeld
Cover by: Rob Liefeld

DEATHSTROKE, ZEALOT and the OMEGAS vs. LOBO! DEATHSTROKE races to find the crashed STARPOINT cruiser and the ship's WORLD BREAKER protocol!