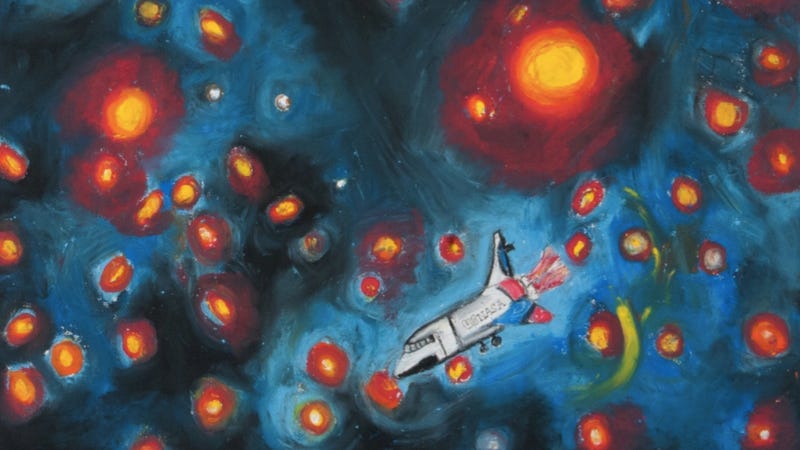 Earlier this year, the 2012 Space Foundation Student Art Contest invited kids from pre-kindergarten through 12th grade to submit original artwork of the Universe. The only requirements were that the students adhere to the theme, "Space is Infinite - Explore!"
The contest wound up attracting more than 1,500 entries from 17 U.S. states, Turkey and Pakistan. According to the contest website:
The 36 winners, selected by a panel of distinguished art professionals from the Colorado Springs area, came from seven states and the country of Pakistan. Winners include first, second and third place in three style categories - drawing, painting and multimedia - within four grade categories - pre-K-2, 3-5, 6-8 and 9-12.
Included below are the grand prize winners from each grade category, along with a few of our favorites.
Grand Prize, 3rd—5th Grade, Meerab Atiq, Beaconhouse School System, Lahore, Pakistan
Grand Prize, PreK—2nd Grade, Grace Tesar, The Classical Academy - Central, Colorady Springs, Colorado, USA
Grand Prize, 6th—8th Grade, Syed Nofal Shah Bokhari, Army Public Schools and College, Kohat, Pakistan
Grand Prize, 9th—12th Grade, Syed Zaki Raza, Hamdard Public School, Karachi, Pakistan
2nd Place, PreK—2nd Grade Painting, Aylana Wray, The Classical Academy - Central, Colorado Springs, Colorado, USA
2nd Place, 3rd—5th Grade Multimedia, Taha Waqar, Roots School System, Rawalpindi, Pakistan
2nd Place, 6th—8th Grade Multimedia, Anolani Viloria, Kapolei Middle School, Kapolei, Hawaii, USA
1st Place, 6th—8th Grade Drawing, Mohammed Nafeel Irfan, Prep School Aitchison College, Lahore, Pakistan
3rd Place, 9th—12th Grade Multimedia, Daniel Carr, Homeschool Student, Woodland Park, Colorado, USA
Check out the rest of the winning entries over at Space Foundation.
[Spotted on Wired]