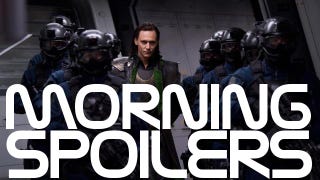 Captain America 2 is a go. FX is still trying to make the Powers pilot happen, even if it means starting from scratch. Alex Kurtzman gives an Ender's Game update. Plus Doctor Who set photos from the Ponds' final episode!
It's all spoilers from here on out!
Top image from The Avengers.
The Avengers
Tom Hiddleston has long been the most loquacious Avengers cast member, and here are some highlights from the latest round of interviews. First up, he explains what writer-director Joss Whedon found so interesting about the character, and why Loki is the right villain to bring all the Avengers together:
Well, I think Joss loves Loki because he loves complexity and the great thing about Loki is that there is almost no ceiling to his complexity as a character. He is a shape-shifter, intelligent, and he has strategic gifts but he also has reservoirs of pain. I think when you have so much color and heroism in a film like The Avengers it needs to be balanced by a degree of pain I think...[Joss] loved all of Loki's damage and that somewhere at the bottom of Loki's credentials as a bad guy he is a searching spirit. He is a damaged soul searching for the answers to something. Why does he exist? What is his role in this universe? He isn't just someone who is evil for the sake of being evil. He has complicated reasons for that. So I think in terms of how The Avengers come together…when you are making a film, there are so many superhero films, and there are so many films about the end of the world, and you have to think, "How can we make this distinctive and unique?" What I think Joss has done so brilliantly is that he has made it about the healing power of being part of a team. So each of The Avengers have their own individual pain. Loki has his own pain too and somehow by bringing them together their pain is eased by being part of a team, which I think is a unique selling point for this particular film.
He also talks some more about just what is motivating the movie's main villain:
I don't want to say that it is disconnected from the Loki of Thor. So I think that in thought Loki has a deep need for approval and status. As in, Loki learning that he was Laufey's bastard son and learning that he had no place in Asgard. He felt unloved, abandoned, and alone. He was abandoned by Odin and that whole family. I think that is still connected to his motivations in The Avengers. I think that any completely delusional fascist in the course of human history has come from the lack of self esteem. So he is just going about in the wrong ways of giving himself power. I mean, that is what all of the villains throughout the history of human race have ever really wanted -– to accumulate power. So somehow in the delusion that power they think it will give them self respect, which it won't, but Loki thinks that having power will earn him approval and self respect.
Finally, he suggests Loki won't be making any attempt to blend in while he's on Earth:
I think that Loki doesn't particularly care what the humans think about his dress sense. Let's remember that he is a god or at least an advanced being visiting these deeply inferior beings called humans. I think that like in a way when Thor first comes to earth Loki also shares an arrogance about being superior to them. The journey for Thor and that character is to learn humility. So by the end of Thor Thor, as played brilliantly by Chris Hemsworth, has respect, affection, and love for the human race. I'm not sure that Loki has developed that yet.
There's still plenty more at the link. [/Film]
Here's the latest TV spot. [Coming Soon]

Here's a new still showing off the latest version of the Hulk, which was created using motion capture by Bruce Banner actor Mark Ruffalo. [Coming Soon]
Here's a new image of Captain America that Marvel Studios sent out in celebration of his sequel getting a release date. Speaking of which...
---
Captain America 2
Marvel Studios has announced the next Captain America movie will come out April 4, 2014. They also included this brief description, which at least confirms Cap's newest adventure will be set squarely in the present day, although flashbacks to World War II aren't out of the question:
"The second installment will pick-up where the highly anticipated 'Marvel's The Avengers' (May 4, 2012) leaves off, as Steve Rogers continues his affiliation with Nick Fury and S.H.I.E.L.D and struggles to embrace his role in the modern world."
Marvel is also holding May 16, 2014 as the release date for some other, currently unannounced movie, and it seems unlikely given the timing that this will be an Iron Man, Thor, or Avengers movie. (X-Men and Spider-Man, of course, come from different studios.) As such, we might soon be hearing about Marvel's plans for that long-awaited Ant-Man from Edgar Wright, the rumored Doctor Strange film, or a spin-off for one of the other Avengers like Black Widow, Hawkeye, or possibly even Nick Fury. Anyway, there's a good rundown of what to expect from Captain America 2 at the link. [MTV]
---
The Amazing Spider-Man
Joining those three low resolution clips from the Kellogg's tie-in is this new sneak peek, which is of similarly iffy quality and was seen during star Emma Stone's recent appearance on Ellen. [Coming Soon]

---
Ender's Game
Producer Alex Kurtzman discusses the adaptation process for Gavin Hood's movie version of the beloved Orson Scott Card novel:
I'm really proud of the work everybody's done on 'Ender's.' Particularly because it's a very complicated sprawling book that a lot of people have tried for a very long time to figure out how to make. [Director] Gavin Hood, the minute that we read his script we realized that in a miraculous way he'd managed to distill down the essence of the book and the big moves to a very understandable clear format. He had made changes that were I think totally protective of the novel, he hasn't changed any of the plot, it's just about not being able to put all of it in one movie. He really distills it down to its essence in a beautiful way and that was an amazing thing to see. It's an amazing thing to see the movie come to life because it's such a special and different movie."
He also offered some general praise for the various cast members:
"Asa [Butterfield] is unbelievable in it. Hailee [Steinfeld] and Abigail [Breslin] are incredible. Harrison [Ford] and Viola [Davis] are just, they're weirdly exactly what you imagined when you read the book, or at least I did. It's really going to be a special movie. We're about halfway through it, maybe close to halfway but it's been a wonderful shoot so far. We're just happy to support the vision of the book. It's such a treasured novel and it's very rare that you get an opportunity to work on something like that so we were very psyched."
---
Riddick
Director David Twohy released this set image to mark the end of principal photography. He also included a message for fans that you can check out below. [ShockTillYouDrop]
"So our business here is done - principle photography, anyway. It was a challenging schedule we had for this latest installment of RIDDICK – a scant 47 days – but we managed to get what we needed (and more), thanks to a skilled crew and a gifted and willing cast. I'm packing up now to return to L.A. after five months here, but the memories of Montreal are already piling up in my head in a way that I know will haunt me, happily, for years to come."
---
Here There Be Monsters
The Hangover and Limitless star Bradley Cooper has reportedly been offered the lead role of real-life 18th century admiral John Paul Jones - the one famous for declaring, "I have not yet begun to fight!", launching an invasion of Britain that might have worked if everybody else wasn't drunk, and defecting to Russia before communism made that sort of thing cool. Orphan director Jaume Collet-Serra is reportedly in negotiations to direct the thing. In case you'd forgotten, this is the movie that randomly adds sea monsters to the life story of John Paul Jones, apparently ignoring the fact that, as I hopefully just demonstrated, John Paul Jones's life story was already plenty awesome without adding any sea monsters to the mix. It's basically the cinematic equivalent of this Calvin & Hobbes comic, though I'm pretty sure nobody is in on the joke. Oh, and take all this with a grain of salt, you know the drill. [Vulture]
---
Doctor Who
Filming has begun on the fifth episode of series seven, which sees the climactic departure of Amy and Rory, the big return of the Weeping Angels, and — assuming you can believe Steven Moffat, which, let's face it, you probably can't — a major death. Also, this one is supposed to be set and partially filmed in New York City, though all these photos and videos are from Cardiff. [Blogtor Who and Doctor Who Spoilers]
The audition script that won Jenna-Louise Colman her role as the Doctor's new assistant has been released in Doctor Who Magazine. Steven Moffat has categorically stated it was written just for the audition — but again, nobody really seems to trust Moffat anymore on these things, which is probably just how he likes it anyway. The scene is set in a haunted house and names the Doctor's new companion as Jasmine - I'd guess the "Jasmine" bit was definitely just for the audition, although I suppose it's possible the Doctor and his new companion will eventually investigate a haunted house. Of course, that just seems like the sort of thing all Doctors would do eventually, so again, it probably has nothing to do with this script. Anyway, you can check out the audition scene at the link. [Bleeding Cool]
---
Fringe
Here are three sneak peeks for tonight's episode, "Everything In Its Right Place." [Fringe Television]

---
Once Upon a Time
Here's a short description for episode twenty-one, "An Apple Red as Blood", which airs May 6:
As Henry begs Emma to stay in Storybrooke, Regina works on a plot that could rid her of Emma permanently; Snow White asks her cohorts to help save Prince Charming and defeat the evil queen.
Pinocchio, who you may remember from Disney's Pinocchio, will soon make his big debut on the show, although it sounds like Ariel — you know the little mermaid in Disney's The Little Mermaid — won't show up until next season. Still no word on when Oliver and all the other dogs from the beloved Disney film Oliver & Company will show up, possibly because I'm the only person on the planet wondering about that. [E! Online]
---
Grimm
Law & Order: Criminal Intent actress Mary Elizabeth Mastrantonio will reportedly appear in the season finale as Nick and Hank's latest nemesis, a character simply called the Woman in Black. Also, you can check out a sneak peek for tonight's episode here. [TV Line]
---
Powers
FX is reportedly still trying to make its adaptation of Brian Michael Bendis and Michael Oeming's comic work, and they are now going ahead and actually reshooting the pilot. That's according to actor Khary Payton, who played Cutter in the original pilot but is now no longer:
"[The comics are] amazing, and there really is a commitment. The higher ups want to do this so badly because they know it's going to be the coolest thing on television. But it's hard. It's a hard concept, I think, to get. And they had to step back and start over again. From what I hear, the plan is still moving forward. Unfortunately, we – all of the actors – got released. They're literally starting over. They want to do it again. And fortunately and unfortunately, I'm doing another show, and I still hope beyond hope that I can be a part of 'Powers.' But I'm happy to be working. But things are happening with 'Powers' absolutely. There are scripts being turned out. They just want more material to hear that they're getting it right."
It's not clear just who, if anyone, would be retained from the original cast — Hot Fuzz actress Lucy Punch has already dropped out as Deena Pilgrim — and the main question right now is whether Narc's Jason Patric is still playing Christian Walker. Either way, I guess we can officially restart those "Cast Katee Sackhoff!" campaigns. It should also be pointed out that this sort of thing isn't unheard of for FX — Sons of Anarchy had a similarly tortured development process, complete with a major recasting — and it ultimately turned out pretty well. [Comic Book Resources]
---
Supernatural
Here's a set photo tweeted by guest star Kevan Kase, whose appearance apparently involves "roughing up the boys and having a few laughs." [@HeadKase_1]
---
The Fades


The British supernatural show — maybe best known at this point as the launching pad for new Doctor Who executive producer Caroline Skinner — has been officially canceled after a single six-episode season on BBC Three. Star Johnny Harris has confirmed the news, and while there's no immediately obvious reason for the cancellation, it's probably down to the fact that the BBC doesn't really have any money any more. [Digital Spy]
---
Additional reporting by Jennifer Griffith-Delgado and Charlie Jane Anders.