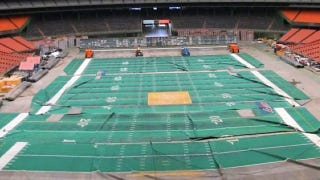 Despite its historical distinction as the world's first domed stadium, the Houston Astrodome (a.k.a. "The Eighth Wonder of the World") has languished unused since the late 2000s. In the ensuing years, Houston-area sports teams have moved on to other venues and the elements (and an electrical fire) have taken its toll on the once-packed stadium. The only visitors to this sweaty, unventilated temple to Texan athleticism are vandals, urban explorer types, and the occasional press members, who were allowed access to the building this week. As you can see from the below photos, the building is more Thunderdome than Astrodome nowadays.
You can see more photos at the Houston Chronicle and Houston Press.
Photos: Brittanie Shey/Craig Hlavaty/Houston Press, except for the bottom two which are Melissa Phillip/Houston Chronicle .