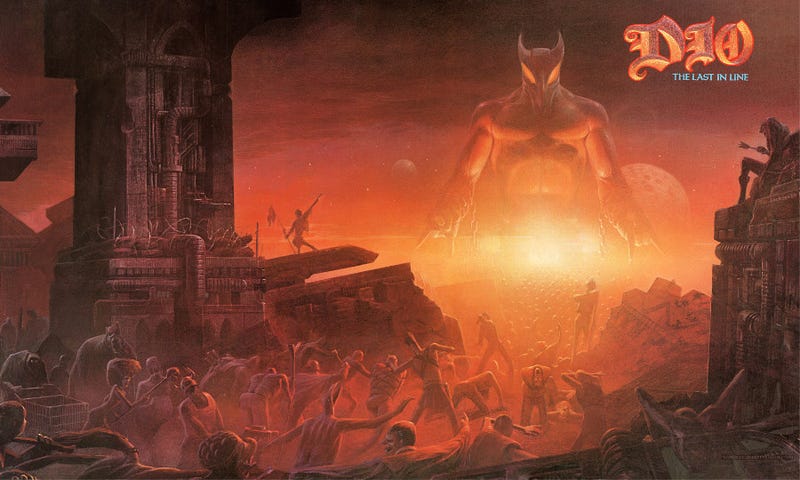 In 1984, Ronnie James Dio's eponymous band followed up the success of Holy Diver with their second album, The Last in Line. The title track was accompanied by a completely insane video directed by Don Coscarelli, director of Phantasm and Beastmaster.
Coscarelli deserves a lot of credit for somewhat faithfully replicating the album cover on what was probably a miniscule budget. From Vivian Campbell's preening guitar solo to the electroshock video games, the whole thing just screams "the 80s." Hell, the bike messenger kid is actually Punky Brewster's older brother (well, half-brother).
This thing is awesome from start to finish, but here are a few choice moments to watch out for:
0:24 – Randy Savage in a Camaro throwing the devil horns. This image by itself could win wars.
1:23 – Would someone please make an animated gif of Dio giving the universe's most epic thumbs down? I plumbed the meme mines and struck gold.
1:37 – A video game in which a stick figure wizard spellblasts a guitar with legs. And then you die.
1:55 – Until Dio plucks a cosmic quarter from his regalia, hits the reset button, and your torment begins anew.
2:21 – Meedley Meedley Meedley Meedley Meedley Meedley…
2:58 – We're the throw before the toss? RJD, I love you man, but…bwahuh?
3:14 – You, too, will be assimilated.
3:27 – Money shot.
The world is a poorer place without Ronnie James Dio in it.