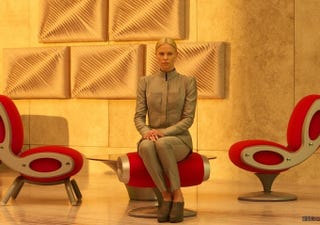 We've got a big batch of Prometheus stills to analyze! First up, it looks like this is the very first picture of life outside of the good ship Prometheus. Check out Charlize Theron with a big old stick up her rear while hanging out in some sort of 1970s-channeling futuristic waiting room. Note that stiff posture is in almost every frame that Theron's character, Meredith Vickers, is in!
Also, Rafe "you got red on you" Spall is in this? How did we not notice this until now! He is great, great, great, great, great! And nice little old lady spectacles!
In a recent interview with Empire Magazine Spall revealed a very small amount about his character Milburn. Who is apparently a botanist, not a nurse like I guessed. I'm telling you, it's the spectacles!
Botanist Milburn forms one half of a mouthy double-act with Sean Harris' Fifield neither of whom are particularly happy to be on the expedition when it starts to go wrong. So, does that make them…? "We're definitely the Harry Dean Stanton and Yaphet Kotto," laughs Spall, way ahead of us. "I think I'm Yaphet and he's Harry Dean. I'm happy with that. I'd like my career to mirror Yaphet Kotto's. I'm working on my funk album now."

Like Fifield, Milburn is mocked out by a slightly futuristic look. Well, he's wearing rimless glasses. "Oh the Dame Edna glasses!" sighs Spall. Ridley said, "I think you should wear glasses." They brought a whole load in and I put them on, and he said, 'Perfect.' I'm in the Alien film, looking like Dame Edna."