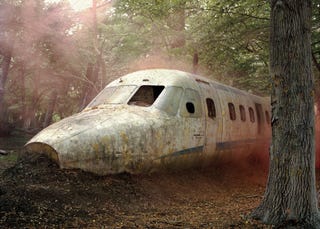 Paintball courses are pretty derelict locations, and they become even more uninviting when all of the players are excised. For their Days Lost series of photographs, Peter Chadwick and Katja Mayer have shot the immediate aftermath of paintball duels. With the players out of the picture, the courses become engulfed in an ominous, otherworldly miasma of colored smoke.
Days Lost will be on display at London's Print House Gallery until April 19. Here's the artists' synopsis of these silent scenes, after the carnage:
On display is a series of photographic works depicting mythical landscapes of unidentified and disused buildings or abandoned vehicles, often covered by a blanket of smoke. Both beautiful and unsettling, the scenes reflect man's relationship with nature, seduction and terror lying within the stillness of these eerie sites. The distinction between reality and fiction remains largely ambiguous, the images evoking larger narratives beyond the frame. Only the trace of a human subject is indicated in the form of acidic coloured clouds, emphasising an absence and sense of loss within the work.
[Via Co. Design]