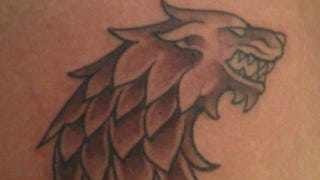 Here's a pretty rad event for Game Of Thrones that we're supremely sad we missed. HBO paid for a collection of die-hard Game Of Thrones fans to drop by the Wooster Street Social Club for free tattoos. They could be inked with one of five sigils from the warring families of Westeros. And they turned out totally awesome!
Hundreds of fans showed up, but only the first fifty were let inside. That is one gorgeous Kraken.
The five sigils available were (starting on the left, going clockwise) the House of Lannister's Lion, a Stag from the House of Baratheon, the Dire Wolf from the House of Stark, the 3-headed Dragon from the House of Targaryen, and the Kraken from the House of Greyjoy.
You can watch a video of one brave soul getting the House of Baratheon crest tattooed on his arm forever over at BuzzFeed.
Images via Wooster Street Social Club.