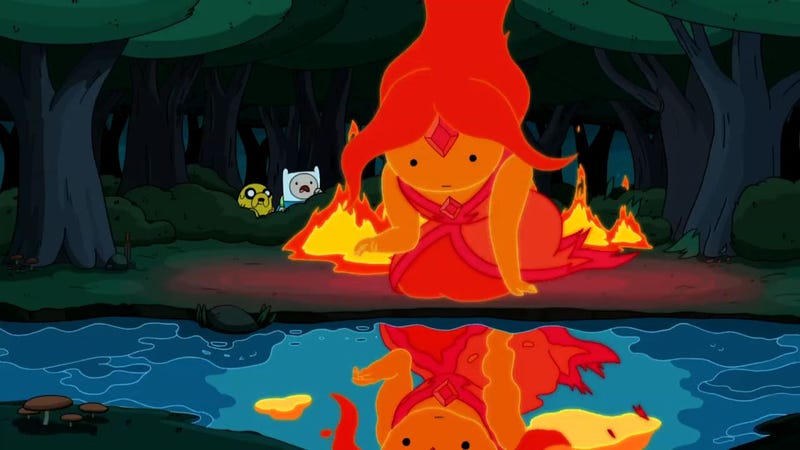 In this week's TV, a princess has to choose between piloting a blue lion and becoming Queen. And on a brand new Adventure Time, Finn discovers the truth about Flame Princess. There's a fantasy-themed TV movie about Monty Python's Life of Brian. Stephen Hawking guest stars on Big Bang Theory. Keith Mars steps up his game on Person of Interest. And Theon Greyjoy discovers you can go home again on Game of Thrones. Oh, and Fringe reveals the truth about those shapeshifters!
Check out tons of clips and details for this week's television, below.
Today:
Adventure Time (7:30 PM, Cartoon Network):
Oh, thank goodness. Some quality TV on Monday nights. In tonight's season premiere Finn and Jake set out to prove that Flame Princess is not really evil. Read our interview with show creator Pendleton Ward here. This is followed by Regular Show and Mad.
Being Human (9 PM, Syfy):
Here's what Syfy wants you to know about this episode: "Sally counsels Zoe about her gift; Josh considers divulging his condition to Julia; Aidan tries to establish a life for himself and Suren." Check out a sneak peek at left. This show is followed by a new (to Americans) episode of Lost Girl, "(Dis)members Only," in which a timelessly outdoorsy jacket leads to death.
Also on TV tonight: a brand new House at 9 PM on Fox, and a brand new Castle on ABC at 10.
---
Tuesday:
Level Up (8 PM, Cartoon Network):
This episode of the "video games break into reality" show is mostly notable for the great episode title: "Blasta-ton 2.0." Apparently it's about a new weapon that comes with unexpected side effects.
Also on TV tonight: Another Doomsday Preppers at 9 PM on Discovery.
---
Wednesday:
Johnny Test (7:30 PM, Cartoon Network):
Here's the blurb:
Johnny's tired of the lame toys found in cereal boxes, so he launches his own "Johnny Os" with a real alien blaster found in each box. Porkbelly is now protected against space invaders, but who will save the town from its citizens?
Voltron Force (8:30 PM, NickToons)
In "Roots of Evil," Maahox creates a seed filled with Haggarium. Yeah, I hate when that happens. Later, Allura comes face-to-face (face-to-branches?) with the fully grown tree, and faces a tough decision about her future. Watch a clip at left — it's followed by a brand new Iron Man: Armored Adventures.
Nova (9 PM, PBS):
In "Hunting the Elements," we "take a spin with David Pogue through the world of weird, extreme chemistry to unlock the secrets of the elements." Haven't you always wanted to take a spin with David Pogue?
Also on TV tonight: a brand new South Park at 10 PM and a brand new Ugly Americans at 10:30 PM on Comedy Central.
---
Thursday:
Big Bang Theory (8 PM, CBS):
Another week, another crazy guest star. This time, it's legendary physicist Stephen Hawking, playing himself. Hawking is working with Wolowitz, and Sheldon will do anything to meet his hero.
Titanic's Final Mystery (8 PM, Smithsonian):
Here's what the Smithsonian channel wants you to know about this two-hour special:
A century ago, the "unsinkable" Titanic plunged to the bottom of the North Atlantic Ocean. With each passing year, the myth surrounding the ship has grown, as have arguments over why and how she met her demise. However, a recent study blows all other theories out of the water. Follow Titanic detective Tim Maltin as he shares the results of his 20-year investigation. Combining thousands of hours of eyewitness testimony with modern scientific investigation, he reveals that the real culprits may have been forces beyond human control.
Person of Interest (9 PM, CBS):
It sounds like Keith Mars is finally going to step up his game — the Machine spits out five numbers, one for each of the dons of New York's crime families. And this can only mean one thing: Elias is finally ready to eliminate his competition.
Touch (9 PM, FOX):
I'm just going to quote from the voiceover in this promo: "Human beings are hardwired with the desire to know we've been heard. We're always hoping for connection." Did you hear me? Hardwired. There's like a magic kite and a Magic Negro and everything is magical.
Awake (10 PM, NBC):
Sounds like things are starting to unravel more and more for our poor beleaguered detective:
While working a hostage situation with Detective Vega (Wilmer Valderrama), Detective Michael Britten (Jason Isaacs) unexpectedly finds himself collaborating with Dr. Lee (BD Wong). In an effort to calm down Gabriel Wyath (Guest Star Billy Lush) — a patient who has threatened to blow up a mental hospital — Britten is compromised, and the effects follow him into his other reality. Meanwhile, Rex (Dylan Minnette) introduces his girlfriend, Emma (Daniela Bobadilla), to his dad and Bird (Steve Harris) shows concern over Britten's lack of focus due to his sleepless nights.
Also on TV tonight: Community is on NBC at 8 PM and The Big Bang Theory is on CBS at 8 PM, because that's the nerd comedy timeslot.
---
Friday:
Fringe (9 PM, FOX):
Remember the new shapeshifters? It seemed like they were going to be a big part of this season, but we haven't heard from them in months. Now it looks like that's about to change — Lincoln travels to the Other Side to investigate a case that could have a surprising connection to the shapeshifters. Fingers crossed this show will start picking up the pace again.
Grimm (9 PM, NBC):
Remember Juliette? Nick's main squeeze? She's actually getting some attention this time around:
Nick (David Giuntoli) pulls out all the stops to plan a romantic getaway for Juliette (Bitsie Tulloch) in an attempt to get their relationship back on track. Nick's duties as a Grimm get in the way of romance when he meets the unsettling neighbors (guest stars Azure Skye and Josh Randall) and discovers that the troubled wife has a rare and valuable treasure to protect. It's left to Nick to keep everyone safe. Back in Portland, Hank (Russell Hornsby) and Monroe (Silas Weir Mitchell) each find themselves on the brink of new romantic relationships.
Also on TV tonight: A brand new Ancient Aliens on H2.
---
Saturday:
DC Nation (10 AM, Cartoon Network):
Once again, it's a full hour of DC Comics zaniness, right after the new Thundercats at 9:30 AM. There's a new Green Lantern (Hal and friends travel to a new planet, searching for a new Green Lantern) and a new Young Justice, plus some random silly/weird shorts. Yay!
Being Human (9 PM, BBC America):
The penultimate episode of season four, written by series creator Toby Whithouse. Apparently it's one of the best episodes yet. Apparently there are flashbacks to the past — and trips to the post-apocalyptic future. And we find out why Future Eve is trying to murder herself as a baby.
Holy Flying Circus (10 PM, Ovation):
Does the idea of Stephen Fry co-starring in a "fantastical re-imagining of the controversy surrounding the release of Monty Python's 1979 film Life of Brian" sound like something you'd be interested in? Then you're in luck. The religious uproar against this blasphemous movie is turned into the backdrop of a fantasy story which examines the question of the acceptable limits of comedy. And as you can see at left, it features John Cleese with a sword, versus Michael Palin with a lighsaber. Yes, really. Sort of.
Also on TV today: A new My Little Pony: Friendship is Magic on The Hub at 1 PM, and a new Transformers Prime on The Hub at 8:30 PM.
---
Sunday:
Ultimate Spider-Man (11 AM, Disney XD):
Spider-Man goes to Latveria and tries to capture Doctor Doom, but his plan — not surprisingly — backfires. This is followed by a brand new Avengers: Earth's Mightiest Heroes.
Titanic: The Final Word with James Cameron (8 PM, National Geographic):
And that final word? Probably "3-D." Or "post-colonialism." Actually, place your bets in comments as to what James Cameron's final word is.
Frozen Planet (8 PM, Discovery):
We look at the difficulties in making this series:
For nearly four years, the Frozen Planet film crew put themselves at the mercy of the elements, facing fierce polar winds up to 148 miles per hour and bone-chilling temperatures as low as -58°F. The camera teams' experiences were sometimes hair-raising and at other times humorous. They were stalked by hungry polar bears, befriended by curious leopard seals and driven nearly mad by month after month of endless squawking by thousands upon thousands of Adélie penguins. All to get the shot - and they did!
Game of Thrones (9 PM, HBO):
Theon Greyjoy returns home to the Iron Islands! And they throw him a big "welcome home" party, with streamers, and balloons and maybe a few strippers who burst out of cakes. It's all going to go Theon's way from here on out. Meanwhile, Arya is on a fun road trip with Gendry and a good-natured guy named Jaqen, and it's probably going to be like a huge homage to Sisterhood of the Traveling Pants. After that bleak first episode, this show is going to lighten up majorly, I just know it.
Also on TV tonight: A brand new Mythbusters on Discovery at 9 PM.
Sources: Futon Critic, MSN TV, TV Guide, and various TV studio press releases.