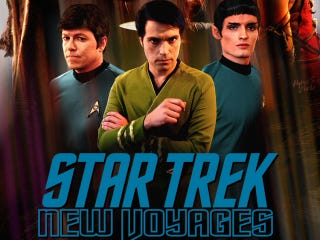 The lost Star Trek script by Norman Spinrad ("The Doomsday Machine") may have been found — but it won't be coming to your screen any time soon.
The producers of the nonprofit webseries Star Trek: Phase II were planning on producing it, the way they did with David Gerrold's lost Star Trek: The Next Generation storyline. But CBS, which owns some of the rights to Star Trek and has allowed past Phase II productions, said no, according to the New York Times. The story, "He Walked Among Us," is about a well-meaning sociologist, who was to be played by Milton Berle, who disrupts the development of the planet Jugal. The Enterprise crew has to remove the sociologist without further disrupting the development of the culture.
Said CBS in a statement:
We fully appreciate and respect the passion and creativity of the 'Star Trek' fan and creative communities. This is simply a case of protecting our copyrighted material and the situation has been amicably resolved.
But fans interviewed by the Times were irate, suggesting that CBS should be phasered on "heavy stun." And Gerrold said Trek fans "are not a sleeping dragon that you want to poke."