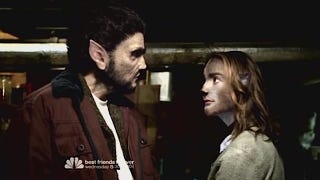 Good Grimm everyone! After a collection of less than stellar episodes of fractured fairy tales, incorporating old villains and giving Monroe something to pine after combined to make a pretty pleasing episode. Lots to like this week. Plus watch how fairy tales beasts get high!
This weeks fairy crime didn't have a super complicated mystery murder to quickly solve in the hour allocated for this drama. Instead it was fairly simple robbery gone bad, which allowed us to have a little bit of fun with some of the already existing characters. Yes! No time was wasted explaining lore around a CG-face race that we will forget about next week.
The blonde hexenbiest put a love spell on Hank (because the quickest way to a person's soul is through his friends, OOOOOOOOOOOOOOFF). Meanwhile Pilates Wolf has met a lady and all the woodland vessen are leaving blankets and pies at the Grimm's door. Sgt. Wu eats one of Hank's love potion cookies and turns into a boil, but in the end almost everything is saved, except for Hank's obsession with the little lady he's now seeing in his shower.
We really don't have too much to say about this episode — it was just solid. Fairly interesting crime, interesting love possibility for Monroe and I adore that Prince Eric is finally getting some benefits for being a Grimm (feels like their setting up for something big there). Infinitely better than the last few weeks, because they're finally playing with characters we care about!