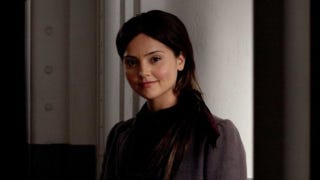 Amy and Rory are set to leave the TARDIS sometime in the upcoming seventh season, and the BBC just announced Jenna-Louise Coleman will be stepping in as the Doctor's latest companion. Plus spoiler-y details for Amy and Rory's final adventure!
The show's newest time traveler is 25-year-old actress Jenna-Louise Coleman. Coleman's previous credits include the long-running British soap opera Emmerdale, the gritty BBC school drama Waterloo Road, and the upcoming big-budget miniseries Titanic. Audiences outside the United Kingdom might recognize her from her bit part in Captain America, where she played one half of Steve Rogers and Bucky Barnes's double date at the World's Fair.
At today's introductory press conference, it was revealed that six episodes will air this year, including the 2012 Christmas special. Showrunner Steven Moffat gave the most concrete details yet regarding just how the Ponds will leave the TARDIS:
"Amy and Rory will leave in a final encounter with the Weeping Angels in episode 5. Not everyone gets out alive and I mean it this time."
Coleman will first appear in the Christmas special, which likely means the Ponds will have their big farewell in episode five. The remain eight episodes of series seven will air in 2013. Moffat offered these comments on what to expect from the new companion:
It always seems impossible when you start casting these parts, but when we saw Matt and Jenna together, we knew we had our girl. She's funny and clever and exactly mad enough to step on board the TARDIS.

It's not often the Doctor meets someone who can talk even faster than he does, but it's about to happen. Jenna is going to lead him his merriest dance yet. And that's all you're getting for now. Who she's playing, how the Doctor meets her, and even where he finds her, are all part of one of the biggest mysteries the Time Lord ever encounters. Even by the Doctor's standards, this isn't your usual boy meets girl."
Although it's been assumed for awhile now that Karen Gillan and Arthur Darvill would be leaving the show about midway through series seven, it wasn't until a preview of the 2011 Christmas special "The Doctor, the Widow, and the Wardrobe" that showrunner Steven Moffat confirmed the addition of a new companion:
The final days of the Ponds are coming. It's during the next series – I'm not telling you when and I'm certainly not telling you how - but that story is going to come to a heartbreaking end. We have only so many more adventures with the lovely Amy and the lovely Rory. So that story, next series, during the series, will be over.

And then, the Doctor is going to meet a new friend. And I'm not going to tell you anything about he, she or it.
Via the BBC.