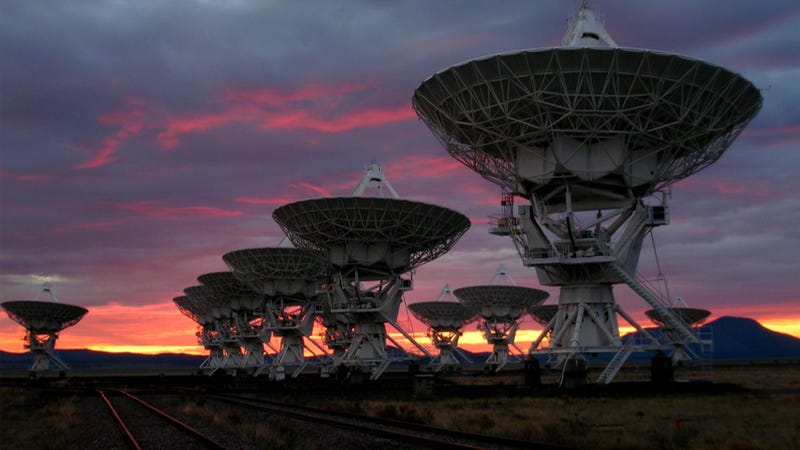 Science and acronyms have always gone hand-in-hand, and people over the years have come up with some pretty excellent abbreviations for long and technical scientific terminology — MACHO, RAMBO, and WIMP being three standout examples.
So it's downright unconscionable that the most famous radio telescope in the world — the Very Large Array, or "VLA" for short — is known by such an uninspired name. And that's where you come in. The Very Large Array is about to get a new name, and the National Science Foundation and National Radio Astronomy Observatory want your suggestions.
According to an announcement released this morning by the NRAO:
The NRAO's Very Large Array (VLA) is nearing completion of an amazing transformation. Its original, 1970s-vintage electronics have been replaced with state-of-the-art equipment, increasing its technical capabilities by factors of as much as 8,000 and greatly increasing the array's scientific impact.

The result is a completely new scientific facility.

The National Radio Astronomy Observatory (NRAO) seeks ideas for a new name for the VLA. Click the link below for an online entry form to submit a name suggestion. You may enter a free-form name, or a word or phrase to come as a prefix before "Very Large Array," or both.

Entries will be accepted until 23:59 EST on December 1, 2011, and the new name will be announced at NRAO's Town Hall at the American Astronomical Society's meeting in Austin, Texas, on Tuesday, January 10, 2012.
So hop to it, folks — get those creative juices flowing, then click here to suggest a new name for the VLA!
Top image via metousiosis