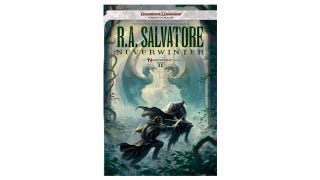 The new best seller in R.A. Salvatore's Neverwinter Saga has just arrived. It continues the story of Drizzt, who at the outset of this novel is without his long time friends for the first time in almost 100 years, leaving Drizzt uniquely vulnerable to the persuasions of his newest companion-Dahlia, a darkly alluring elf.
But traveling with Dahlia proves to be challenging, and Drizzt finds his usual moral certainty swept away by her unconventional views. As Herzgo Alegni vies for control of Neverwinter and Sylora Salm plots to bring about a cataclysm that will destroy the city once and for all, Drizzt and Dahlia wade into battle—a state Drizzt is beginning to enjoy a little too much.
Check out an excerpt below, and find out if Drizzt and Dahlia exact revenge on those responsible for leveling Neverwinter by ordering your copy of Neverwinter here.
Praise for Gauntlgrym, Neverwinter Book I:
This was by far the best fantasy fiction book I have read in a long time, and I just
may have to return to the origins of Drizzt, and again follow him on his
adventures. —The SFF Hub