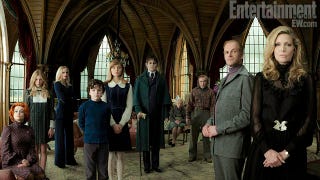 We were a tad nervous after seeing those set photos of Johnny Depp looking Michael Jackson-esque on the set of Tim Burton's Dark Shadows, but the first official photo from the film makes Depp look much more like Barnabas Collins.
The picture, which is clearly intended to reassure the purists, appears over at Entertainment Weekly. EW quotes Burton as saying:
I remember seeing a group photograph of the cast of the original series. For me it captured the weird Dark Shadows vibe in a single image. I had a brief window of opportunity to have our cast present at the same time, the day before principal photography began. We decided to stage a similar picture instead of rehearsing, to see if we captured the Dark Shadows feeling.
Click over to EW for the full, higher res picture, plus a primer on who all these people are. [EW]