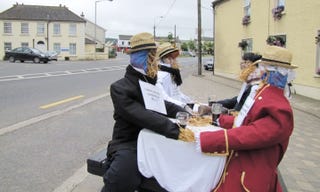 Last month, the All-Ireland Scarecrow Championship was held in the village of Durrow. This year, over 150 scarecrows were placed all around the town, delighting local aficionados of hay-stuffed manikins.
Of course, I imagine this competition is sort of bizarre if you have no idea what the hell's going on. Indeed, this happened to the proprietor of the Stone Art Blog this August:
Unaware what was going on when entering the town, we spotted a funny looking fellow propped up by the road, who turned out to be a scarecrow, this seemed to be a little odd place for a scarecrow, but 'hay' whatever! Then there was another one! Now it was getting a little weird.
If you want enter this scarecrow competition next year, sign up here. The rest of you can ogle this year's soulless contestants.
[Photos via Jonathan Walsh. Spotted on Neatorama.]