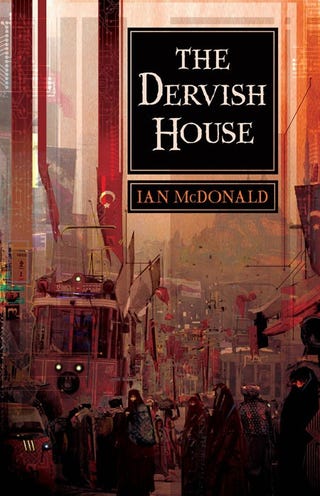 The io9 Book Club meets once per month to discuss a book, and then the author usually joins us for a chat. In August, we're meeting on the 23rd to discuss Ian McDonald's Hugo-nominated The Dervish House. Watch for a post that day announcing the book club, and jump into comments for discussion! There's still time to read the book, too.
We're hoping Ian McDonald will join us later in the week for a discussion.
If you're wondering what this whole io9 Book Club thing is all about, you can visit our past meetings here.
And if you're an overachiever and want to get started on September's book, we're going to continue with our Hugo nominee streak and read Lois McMaster Bujold's Cryoburn. This novel is part of her Vorkosigan Saga, but stands alone — in fact, it could be a good introduction to her long-running series for people who are new to it.