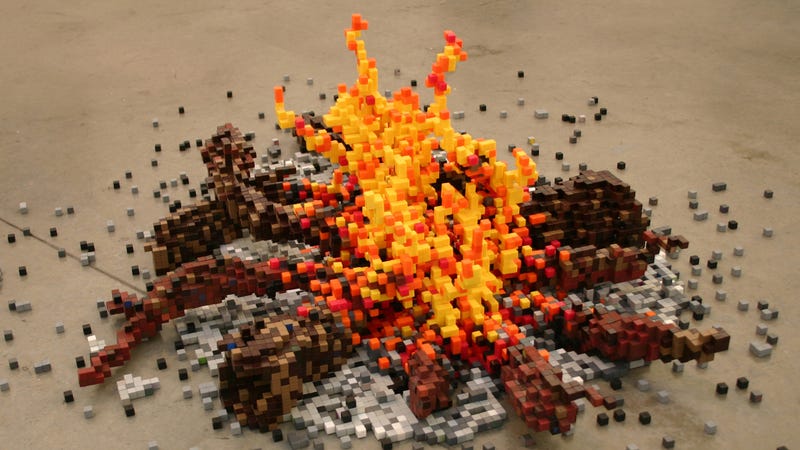 In a time when CGI and special effects are pushing the limits of our abilities to distinguish fantasy from reality, artist Shawn Smith dares to turn our conception of digital simulation on its head. And he's doing it with lots and lots of little wooden blocks.
Nobody would have any trouble guessing what this sculpture — or any of Shawn's sculptures, for that matter — is meant to represent. Looking at this picture, however, what they might have trouble seeing is that this campfire actually IS a sculpture, and not some highly pixelated, digitally rendered image of a campfire.
For each of his sculptures, Smith carves out thousands of "pixels" from wood and then positions them according to color to create in three space the type of object you'd expect to find in a game of Minecraft. The process, which most computers could simulate in a mater of milliseconds, can take Smith months to plan and carry out — but the results are something to behold.
You can check out more of Smith's work at his website, and a great interview of Smith by Tyler Curtis over at Juxtapoz
Top image is the first pixelated sculpture Smith ever designed, called "8Bit Campfire" (2005)

"Anvil" (2011)
"RGB Ibex" (2009)
"RGB Ibex" (2009) Detail
"Vulture" (2007)
"Random Access Memory" (2010)
"Skulk" (2010)
"Peafile" (2006)
"Re-kindling" (2008)
"Schrodinger's Hat" (2009)
"Schrodinger's Hat" (2009) Detail
"Vacuity" (2007)