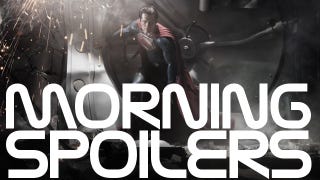 Marvel is releasing two movies in 2014...but which ones? J.J. Abrams promises we're nearing the end of all the Star Trek speculation. John Noble discusses Peter's future on Fringe. Plus set photos for Man of Steel and World War Z!
Spoilers ahead!
Top image from Man of Steel.
The Dark Knight Rises
Here are a bunch of set photos from the recent filming at Heinz Field. [SpoilerTV]
And here are six set videos.
---
Man of Steel
Here are some set photos from the Plano, Illinois set, which is doubling as Smallville. [Montgomery Patch]
---
Marvel Movies
Marvel Studios has announced that they have two films on tap for 2014, although they are yet to reveal exactly which movies they're talking about. The current release dates are May 16 and June 27, and they will follows the already scheduled Avengers in 2012 and Iron Man 3 and Thor 2 in 2013. As such, you'd figure Captain America 2 is a likely occupier of one of those slots, but there's a lot of possible candidates for the second 2014 entry, from Avengers 2 to some sort of Hawkeye/Black Widow thing, to Edgar Wright's long-awaited Ant-Man. [ComingSoon.net]
---
Star Trek 2
J.J. Abrams offers up another status report:
"I think within the next month or so we'll be able to tell you what's going on and when and all that. We're working really hard and this is all to make sure that no one - cast, crew, mostly the audience - isn't disappointed by what we do. [The audience] is the only master we're serving."
He also indicated that he was sorry for all the delays, and then he explained how they were thinking of this second entry:
The odd thing about the first one we did is it was already sort of a sequel in a weird way. It was a reboot, but not. I think the most important thing to remember is that it doesn't matter if anyone has seen the first one or not. It doesn't matter what the first one was, in a way. This has to be a movie that stands on its own. You can't just assume that everyone is going to love the characters because they are played by great actors, or they might have liked the first film. It's really about starting over and at the same time, you really want to make sure you hold onto things that worked in the first one, so it's the obvious stuff."
---
Prometheus
Filming has completed at England's Pinewood Studios, and it's thought that filming is now headed to Morocco. Some photos have surfaced from the striking of the Pinewood sets, and there are a few things of interest, including a prop marked "Magellan mess deck", which may indicate the presence of a second spaceship named Magellan to accompany the titular ship the Prometheus. You can see a few more photos at the link, including a design that appears to echo something seen in the background of the original Alien - a minor link, to be sure, but an interesting one nonetheless. [Alien Prequel News]
---
Rise of the Planet of the Apes Sequel
After the somewhat surprising (but welcome) success of the first movie, it looks like director Rupert Wyatt will have a chance after all to continue his new take on ape origins. Here are his initial thoughts on what he'd like to cover in a sequel:
The ideas I've had are all sorts of things, ranging from Full Metal Jacket with apes… you could start this story again eight years from where we left off, the next generation of apes, those that have come from our protagonists, perhaps going in to a conflict with humans and showing real fear, in the same way as going into war for young soldiers in this day and age, telling their story. Or how apes are taking over cities, and being moved into human environments and having to interact with them and deal with things that are part of our culture and understand and evolve through them. Spies that are in the employ of the apes, working against humans and humans maybe existing underground, because that's a way they can avoid the virus, coming up above ground wearing gas masks, and maybe that's what dehumanises them.
---
The Hunger Games: Catching Fire
The sequel and adaptation of Suzanne Collins's second book in the trilogy now has a release date: November 22, 2013. The first movie is currently still set for a March 23, 2012 release, although we've yet to see anything official from it other than a handful of promo photos. [FilmSchoolRejects]
Speaking of promo photos, here's a couple to add to your handful. That's Jennifer Lawrence as Katniss and Josh Hutcherson as Peeta. [/Film]
---
World War Z
Here are some more set photos from Cornwall, this time showing Brad Pitt on a battleship. [ShockTillYouDrop]
---
The Adventures of Tintin: The Secret of the Unicorn
Here's a new poster. [FirstShowing.net]
---
John Carter
Along with all the other planned formats, Disney has announced that the movie will be released in IMAX 3D. [ComingSoon.net]
---
Real Steel
Here are some images of various tie-in toys, providing some looks at the movie's robots. You can check out the link for the specific names. [ComingSoon.net]
---
G.I. Joe 2
Ray Park has tweeted from the sequel set, confirming that he is indeed back as Snake Eyes. [Badass Digest]
---
Torchwood: Miracle Day
The BBC has released some promo photos for episode six. [Blogtor Who]
---
Fringe
John Noble discusses the circumstances of Joshua Jackson's return as Peter:
"Because we finished off with the season so powerfully what you'll see now is thread in through a mini arc of four episodes. We thread in the feeling, the presence of and finally the manifestation of Peter. What we do is find a way to bring Peter back in…. but not in the way he was before. It's grand for Josh because it gives him a chance to finally do another version of himself, which he hasn't had before. So it's a great pay off for Josh and it means that we get to rebuild somehow in a different way. That wonderful humanizing element that we've had in Fringe of Walter and Peter getting to know and love each other again and build up their relationship… we start the season without that. [When the season starts] Walter is still in the lab but he's quite insane, agoraphobic, obsessive compulsive and under the guardianship of Olivia and Astrid. He's just locked in and won't go out of the lab, so that's an interesting restart from my point of view."
Longtime show trailer-maker Ari Margolis has tweeted this cryptic image, with accompanying hashtag. [SpoilerTV]
---
Game of Thrones
HBO has confirmed that British actress Hannah Murray, who appeared in the first two series of the original Skins, has been cast as Gilly. The character is the daughter of the barbarian Craster, who has not been cast as yet. [Westeros]
---
True Blood
Here's a promo for the next episode, "Spellbound."

---
Terra Nova
Jason O'Mara explains why time-travelling cop Jim Shannon is different from his previous time-traveling cop character, the American Life on Mars incarnation of Sam Tyler:
"Sure, I was aware of the similarities when I read the script. But the differences are so overwhelming that I can't really compare the two, especially from a character point-of-view. Sam Tyler was lost and desperate to get back home. He was thrown into that situation, whereas Jim Shannon is hungry to get he and his family to safety and take care of them. Sam Tyler's challenges were internal; Jim Shannon's are external. His challenges have to do with getting on with the day-to-day in this new world, just trying to stay alive with all the wildlife, which can be a little tricky at times."
There's a bit more at the link. [Montreal Gazette]
---
Supernatural
Here's an interview with Bobby actor Jim Beaver.

---
Warehouse 13
Here are some promo photos from next week's "Don't Hate the Player", featuring a guest spot from Eureka's Fargo. [SpoilerTV]
---
Sanctuary
Here's a trailer for season four.

---
Teen Wolf
The twelfth and final episode of the season will reportedly be called "Code Breaker." [KSiteTV]
---
Additional reporting by Gordon Jackson and Charlie Jane Anders.