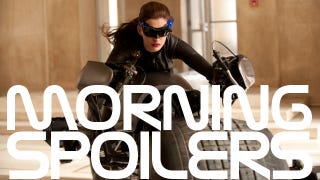 The Dark Knight Rises is filming at Heinz Field, and even the Pittsburgh Steelers themselves are getting into the act. Now new set reports reveal that the real battle isn't between the Gotham Rogues and Rapid City Monuments...it's with Bane.
Plus Bryan Cranston might join Brad Pitt in the zombie apocalypse movie World War Z.
Elizabeth Banks reveals her excitement for The Hunger Games.
Steven Moffat offers the first hints for Doctor Who's next Christmas special.
All that plus tons of hints for the future of Fringe and Supernatural!
Spoilers from here on out!
Top image from The Dark Knight Rises.
The Dark Knight Rises
Here are some more photos of Anne Hathaway on set as Catwoman. [SpoilerTV]
Pittsburgh Steelers quarterback Ben Roethlisberger reveals he and his teammates will play some of the football players in the movie's Gotham Rogues sequence:
"I'm kind of getting everybody together. I heard it's going to be a neat thing at the stadium. I don't think it will be a big part, it's not like we're chasing Batman down or anyting. It's something neat that in 10 years or 20 years we can tell our kids we were in a movie. [Producer] Thomas [Tull] does movies big and I'm sure it will be a big-time movie and something fun to be part of. From what I've heard, it's going to be like a pre-game, warming-up type thing,'' Roethlisberger said of the Steelers' roles. "I don't know the whole concept. There's a Gotham team, a football game. We'll be wearing uniforms. It will be fun."
And here are some descriptions of the filming itself:
Explosions rocked Heinz Field and panicked spectators tried to flee amid screaming, scrambling and near-trampling, only to find the exits blocked by armed terrorists...In between takes, however, terror receded as smiling fans under umbrellas relaxed not far from the assault-rifle-wielding bad guys on the field. The crowd ranged from 14 years old (the minimum age) to senior citizens, although the majority were in their 20s and 30s.
But here's my favorite detail, which suggests Christopher Nolan made room for a little shout-out to the larger world of Batman when naming Gotham's football team the Rogues:
While end zone lettering spelled out "Gotham Rogues" and the park was decked out with homemade signs such as "Rogue Rage," "Rogues Gallery" and "Rogue Nation," it sometimes felt like old home week.
The sequence will also feature some cameos for sports fans/Pittsburgh civics enthusiasts, as former Pittsburgh coach Bill Cowher will appear as the Gotham Rogues coach and Pittsburgh mayor Luke Ravenstahl will play the kicker for the Rapid City Monuments. There are a few more details at the link. [Pittsburgh Post-Gazette]
Here's a video of three Tumblers rolling through Pittsburgh before filming. [SpoilerTV]

---
The Hunger Games
Effie Trinket actress Elizabeth Banks offers this update on filming:
"We're almost done. We've got a little under a month left. It's very exciting. We're really making a provocative movie that's also highly entertaining. It's gonna be fun. It's really great to make something that you know people are excited about and also that you know is gonna deliver. I really think the fans are gonna love it."
---
World War Z
Breaking Bad star and all-purpose acting powerhouse Bryan Cranston is reportedly in talks for a "small but flashy" role in the zombie apocalypse movie. [The Hollywood Reporter]
Here are some set photos of Brad Pitt from the filming in Falmouth, Cornwall. [Splash News Online]
---
Contagion
Here are a couple TV spots for Steven Soderbergh's viral outbreak movie. [Indiewire]

---
The Darkest Hour
This ultra slowed down footage from the trailer appears to reveal the movie's alien.

---
Battleship
Here's a look at Rihanna, who will no doubt provide the most convincing portrayal of a member of the US Navy in film history. [Indiewire]
---
The Vault
Johnny Depp and Graham King have bought the movie rights to the newly published three-issue comic book series, in which "deep sea divers...discover a sarcophagus in the inky depths and accidentally free a terrible force from it." The book is written by Sam Sarkar, who is also the senior vice president of Depp's production company Infinitum Nihil. [MTV Splash Page]
---
Doctor Who
Steven Moffat teases the 2011 Christmas special:
"It will be as Christmassy as Hell. I might be cleverly redeploying a known Christmas story again, sort of… but probably not the one you think! It will be massively Christmassy and moving and sentimental and sweet. It'll be set partly on Earth, but not completely. And it might have a period setting…"
Sounds like the Doctor is finally going to get his hands on a Red Ryder BB Gun. [SFX]
---
Torchwood: Miracle Day
Here's the promo for episode six, "The Middle Men."

And here are some dialogue teasers:
"That's when I came face to face with the true face of evil..."
"Someone is playing the system across planet earth with infinite grace."
"Never question a miracle; you might not like what you find."
"I'm not with the CIA or the US government authority. I'm with Torchwood and we're going to expose everything that's going on here."
"Death within this compound is legal."
"There is one word that my operatives picked up, dating back to the mid-nineties and then erased..."
There are more at the link. [Cultbox]
---
Fringe
John Noble all but confirms the plans for Peter's return, explaining he has yet to film scenes this season with Joshua Jackson:
"No, not specifically with Josh. Peter's] presence has been felt, but we're building up over the first block of [episodes] - we sort of do things in blocks - the first four really build up to his proper arrival. He's been seen before that, but it's quite interesting the way [the writers] shape things. They put things in packages like that, quite often."
He also offers this interesting wrinkle to what may or may not be going on with Peter:
"I don't think the truth of it is that Peter doesn't exist. I think it's that he didn't survive [the illness that killed Walter's biological son]. There's a big difference."
Joshua Jackson reveals one of the reasons he was in favor of Peter's apparent non-existence is that it provides a kick to one of his least favorite aspects of the show:
"I was never a real huge fan of the Peter/Olivia storyline. All of Fringe is on this epic scale, and that seemed kind of banal to me at the center of it. [Now it] is on an epic scale as well. This guy sacrificed himself for the woman that he loves, which made that relationship more interesting and it launched us into the off-season with this 'Holy s-t!' moment."
[TV Line]
Fox executive Kevin Reilly suggests that just as long as the current fans keep watching, then they'll keep the show on the air:
"I don't expect Fringe to grow. It's a pretty complex show. If Fringe can do exactly what Fringe did last year, we're going to be very happy. They're right in the pocket creatively once again."
[EW]
---
True Blood
Deborah Ann Woll discusses the new Jessica and Jason pairing:
I'm actually really excited about that story line. The thing is, Hoyt is such a great guy, but the really sad part of it is that his mom was right: She told Jess all those years ago that Jess can't give him what he wants. While Hoyt is more open-minded than his mother, Hoyt really wants conventional things. He wants a wife and a normal life. And that's not something Jess is capable of, nor does she want it.
[Vulture]
---
Chuck
Executive producer Chris Fedak discusses the Buy More's role this year, now that Chuck is the owner:
"When his spy agency isn't doing well, the Buy More might be the only profit center for his company. It's important that the Buy More does well, so Chuck's trying to figure out a way to make it into a successful store...There's a new commercial with the face of the Buy More, Captain Awesome. He's the most successful salesman Chuck knows...We see the original Buy More commercial that Big Mike starred in back in 1981."
[TV Line]
---
Terra Nova
Executive producer Brannon Braga says the dinosaurs will be "a complicating factor each week in some sort of way." However, he also says there's no quota for how often they need to appear, observing "It's not like the Hulk where he hulked out twice per episode."
Also, the pilot's plot has been changed slightly - Jason O'Mara's Jim Shannon is revealed to have been in jail for two years for punching a cop, something Jim had to do when it was discovered he and his wife Elisabeth had had an illegal third child. His mostly estranged wife breaks him out of prison right before they travel to 85 million years ago. [Pittsburgh Post-Gazette]
Here are some promo photos from the pilot. [SpoilerTV]
And here are some cast photos. [SpoilerTV]
---
Person of Interest
Co-creator Jonathan Nolan discusses the show's central conceit, crime-predicting machine that reveals the Social Security number of somebody who is either about to commit or be the victim of a crime:
"[I'm] so interested in the machine, in its inception, in how [Mr. Finch, the character played by Lost alum Michael Emerson] put it together … we're pushing ahead and exploring a bit more of that. It gets to some of the questions of the show that I'm fascinated by.

"The hardware is very much in place. Everyone has a device in their pocket which the police now use, more than anything else, to determine what happened when something goes wrong - your cell phone." In fact, as demonstrated somewhat remarkably in the POI pilot, Nolan claims that a person's cell "is a live microphone for the government should they choose to turn it on, it's a location tracker… We're standing on this precipice of seeing what happens when you start harnessing all that information. Which is why [Person of Interest] is not really a science fiction show; it's more science fact."
[TV Line]
---
Supernatural
Misha Collins discusses Castiel's role at the beginning of the season, and the fact that he won't be making good on his promise to save Sam from his memories of Hell anytime soon:
"I'll spoil this right now for you — he does start the season as both a wrathful and vengeful god. But he's also righteous, in his own mind. He thinks that he's doing the right thing...No, he wants Sam to suffer for a while. Sam's basically fucked...There's as big a rift as you can possibly imagine between [Castiel and Dean]. Honestly, I don't know where it's going to go."
Executive producer Sera Gamble offers some more insight into Castiel's storyline:
"Cas went looking for his father and his father never showed up for him. He's furious about that. He feels like everything that has come after for him has come after because he had to do everything. He's kind of like that latchkey kid who had to take care of the kids and take care of the kids and take care of the kids, because Dad never came home, so there is this sort of resentment. But if you're not God, you're not God. There's a reason God is God, we discover, over the course of this storyline."
[Zap2It]
New CW head Mark Pedowitz says that, while the show is only renewed for the coming seventh season, he wants the show to continue beyond that. Indeed, going by the CW's willingness to keep Smallville and One Tree Hill on far, far past their sell-by date, I'm guessing the show will be around until 2035. [The Hollywood Reporter]
Creator Eric Kripke is still involved with the show, but in a somewhat smaller capacity than previous years - there are no plans for him to write and/or direct an episode this season, for instance. [TV Line]
---
American Horror Story
FX has released a couple cryptic teaser videos for this new horror series from the creators of Glee. Here are the videos and FX's descriptions of same.

1. What is American Horror Story's story? This mind-bending clue introduces you to two unique series characters and their rather unusual relationship in this sneak-peak clip. This clue is called "Cello."

2. The next clue in the series exposes you to a baby or is it a doll? Is the meaning in the familiar tune? Decide for yourself in this sneak-peek clip. This clue is Called "Baby."
Haven
Here are some promo photos for episode five, "Roots." [SpoilerTV]
---
The Secret Circle
Here are a few more photos from the pilot. [multipleverses.com]
---
Additional reporting by Katharine Trendacosta and Charlie Jane Anders.