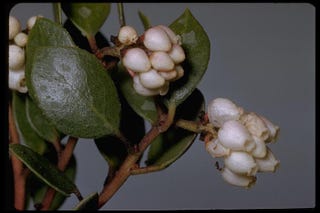 How far would you go to protect the last living member of an entire species? This is precisely the question being faced by national park officials and environmentalists in the San Francisco bay area, where the last-known specimen of the low-growing shrub known as the Franciscan manzanita makes its home.
For over half a century, the Franciscan manzanita (also known as "San Francisco's unicorn," and "Miracle Manzanita") was officially documented as extinct in the wild. In October of 2009, however, botanist Daniel Gluesnkamp had just crossed the Golden Gate Bridge while driving home to San Francisco when he spotted a lonely manzanita growing — of all places — in the middle of a busy highway.
The Manzanita was quickly moved — along with 25,000 pounds of surrounding soil — to an undisclosed, 7-square-foot location in the hills of San Francisco's 1,500-acre Presidio National Park. There, according to Maria L. La Ganga, whose article on the tribulations of the Manzanita appeared in the August 2nd issue of the L.A. Times, the plant has taken on an almost mythical status:
There is no sign attesting to its presence. It is not marked on any map. Coast live oak trees guard the weedy lot where California icons, serpentine rock and bright orange poppies, keep the modest bush company.

Park officials speak proudly of the manzanita, its ecological import, its improbable, now-you-see-it-now-you-don't story. Do not, however, ask them where it grows in their outpost at the foot of the Golden Gate Bridge. They will not tell you. Secrecy, and a nursery rich with seeds and rooted cuttings, are cornerstones of the Presidio's plan to reintroduce the rare plant.
But many believe that not enough is being done to protect the Manzanita. For almost two years, the Wild Equity Institute has fought for the plant's protection under the Endangered Species Act, but responses from federal officials have been unsupportive and in short supply. Consequently, the Institute has filed a lawsuit against Secretary of the Interior Ken Salazar and the United States Fish and Wildlife Service in hopes of garnering more resources that could be directed towards ensuring the Manzanita does not disappear again.
"The Fish and Wildlife Service has failed to use our most powerful recovery tool, the Endangered Species Act, to protect and restore the Franciscan manzanita," said Brent Plater, Executive Director of the Wild Equity Institute. "When asked why, the Service has not been forthright. The Service has had over 60 years to get its story straight, and the Franciscan manzanita simply cannot afford further delay."
As Plater states in Ganga's LA Times piece: "it's hard to get more endangered than only one left in the wild."

Maria L. La Ganga for The Los Angeles Times, via PHYSORG
Read more about the measures being taken by The Wild Equity Institue on their website