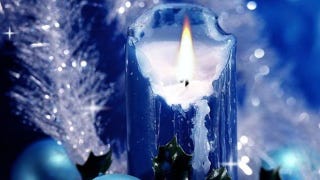 From the British Medical Journal, Aug 27, 1949, where Dr. B.B. Rapackl describes a case he encountered in Poland in 1936.
"The patient was admitted to hospital with acute cystitis. Cystoscopy confirmed this diagnosis, and to my great surprise revealed a blue-tinted twisted Christmas candle floating on top of the liquid ('rivanol') which had been injected into the bladder for the purpose of the examination."
But, readers may be wondering, exactly how did it get there? Here's how:
"When the patient was asked if he himself had introduced the candle into the urethra, he reluctantly admitted that two days previously, while drunk, he had had intercourse with a prostitute whom he could not pay. She in her anger had inserted the candle while he was asleep."
Read full, albeit brief, details in the monograph (it's on page 2 of the .pdf)
This post originally appeared on Improbable Research. Image via.