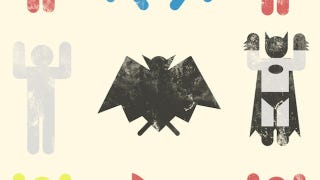 For this year's Gawker Artists Sale, you finally won't have to show your student ID to get an incredible discount. The Gawker Artists Shop firmly believes you don't have to be in school to make learning a life-long pursuit. From now until August 14, S6 is hosting a Back to School sale on all Gawker Artists goods, offering free shipping, domestic and international. So decorating your gadgets with laptop skins, iPhone cases, iPod skins is almost too easy. You can even bring a little refined taste to your walls with some lovely modern art or dress yourself up with printed shirts and hoodies.
Prices vary depending upon models and as prints increase in scale, but finding a print that's right for you is incredibly easy. For example, consider the Star Wars and superhero-centric work of Liam Brazier or the hilarious work of Jonah Block. During the Back to School Sale, the Han Solo price you see is the price you pay. Fill out some shipping and payment information and your brand-new superheroes are on their way. No more, no less: that's it.
Or, consider the Limited Editions section of the same shop for some of the most refined prints available at such an absurdly low price as $90. Every work is part of a 100-edition run and comes with a certificate of authenticity signed by the artist. There's something for everyone whether you choose a Limited Edition print or a skin for one of your gadgets, so head over before the sale ends!
Above: close up of Jonah Block's super heroic minimalism print.