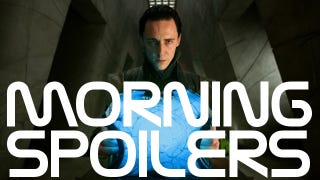 The Hunger Games casts a 30 Rock actress and is considering a trio of intriguing actors. Draco Malfoy actor Tom Felton explains his new villainy in Rise of the Planet of the Apes. Jeff Bridges might be a zombie cop.
Spoilers from here on out!
Top image from Thor.
Thor
Natalie Portman, Chris Hemsworth, and director Kenneth Branagh discusses Portman's character Jane Foster.

---
The Avengers
Mark Ruffalo confirms his participation in the scripting process, and what he's most interested in doing in this movie:
"We've been working on the script for months now. I've been very active in that process. It really is the Bruce Banner that I want to play. I think it will be an interesting twist on him. I don't want to go too deep into that. I'm really looking forward to it. I hope it delivers on all fronts."
Chris Evans confirms that Captain America will wear a new suit for this movie, and he recently did a camera test with it on. [MTV Splash Page]
---
Elysium
Jodie Foster has confirmed she's playing a "kind of evil-ish" person who is "head of state of an alien planet" in Neil Blomkamp's upcoming movie. She now clarified that while the planet may be alien, her character is not, explaining she will be playing "a regular old human." She said the CGI will likely be confined just to the alien environments, and there won't be any actual alien characters like in District 9. She also explained what drew her to the project, offering additional confirmation that Matt Damon is indeed actually now signed on for the movie:
"I thought District 9 was one of the best movies. An absolutely perfect film. So I was just dying to work with Neill Blomkamp and Matt Damon."
---
Rise of the Planet of the Apes
Costar Tom Felton says his character in this movie is a bad guy, much like his most famous role of Draco Malfoy. That said, he's a villain "on a different level" in this movie. He explains how his character fits in:
"When Caesar, our lead ape, gets too big for James Franco's character to look after anymore, they have to put him into a facility. Brian Cox, who plays my dad, owns it, and I work there. Needless to say, I'm supposed to be looking after the apes, but I really don't do that job very well. I don't get on well with them and I'm not that friendly with them. I'm kind of what instigates Caesar's revolt against humans. Before that, he only knew James Franco's character. He thought all humans were going to be friendly and nice. It's through my father and my character that he learns the perils of humanity and how bad we really are."
He also talks a little bit about the world of the film:
"A lot of people, when you say 'Apes,' they think of Tim Burton's one and think that is what this one is going to be like. It couldn't be further from the truth. This movie is set in the world that we know, rather than some alien planet. It's not that it's scary, but it is so much more realistic. There's a real sense that it could actually happen...The apes we see are apes, not the 'Planet of the Apes' creatures we've seen before."
---
The Hunger Games
Elizabeth Banks is now confirmed for the part of District 12 escort Effie Trinket. Lionsgate has also announced the casting of Ethan Jamieson and Tara Macken as the District 4 tributes, as well as Ian Nelson and Kalia Prescott for District 3. [24 Frames]
Woody Harrelson has reportedly been offered the part of Seneca Crane, the Head Gamemaker. Stanely Tucci and Lenny Kravitz have also reportedly been offered unspecified roles. [Vulture]
---
Transformers: Dark of the Moon
Here's a new promo photo. [SpoilerTV]
---
Ender's Game
Summit Entertainment has reportedly signed on to co-finance and distribute an adaptation of Orson Scott Card's novel. The move is thought to be Summit's attempt to build a blockbuster series to succeed the Twilight movies. While Roberto Orci and Alex Kurtzman have been championing the project in recent months, Tsotsi and X-Men Origins: Wolverine director Gavin Hood has both written the script and signed on for directing duties. [Deadline]
---
R.I.P.D.
Jeff Bridges is now reportedly in talks to star with Ryan Reynolds in the zombie police comedy. No word yet on which character Bridges would play, or if he's up for the part that Zach Galifianakis left due to scheduling concerns... but I really want to live in a world where Bridges and Galifianakis are considered interchangeable. [Deadline]
---
Breaking Dawn
Director Bill Condon says the final two-part entry in the series will push the envelope:
"We shot everything - whether it's the lovemaking or the childbirth - as potent and powerful as it can be. It will be interesting to see whether there will be people who think it too disturbing for this universe."
Kristen Stewart agrees, but says she wishes it could have gone even further:
"It's funny because when [the PG-13 issue] comes up, everybody thinks it's all about the sex. The birth is really effective, and I've heard it really hits you in the face. But what it could have been? It could have been shocking and grotesque, because that's how it was written in the book. I would have loved to have been puking up blood."
And Taylor Lautner admits that even he doesn't understand the whole "Jacob instantly falling in love with Bella's newborn half-vampire daughter" thing:
"There were many times I walked up to Stephenie [Meyer] and asked her, 'What exactly is imprinting?' It's still a very confusing thing for me, so don't ask."
[EW]
[gallery 5796884] And Summit Entertainment has released a new still of Jacob. You can tell this final movie is taking the character in bold new directions, in that he's now actually wearing a shirt. [ComingSoon.net]
---
G.I. Joe 2
The movie is reportedly called G.I. Joe 2: When Cobra Strikes, and it will begin filming in New Orleans starting August 1. [IGN]
---
Doctor Who
The BBC has released this prequel video for next week's episode, Steve Thompson's "The Curse of the Black Spot." [Life, Doctor Who, and Combom]

And here's the synopsis for Neil Gaiman's episode four, "The Doctor's Wife":
The Doctor receives a distress signal from an old friend. Could there really be another living Time Lord out there? Hopes raised, he follows the signal to a junkyard planet sitting upon a mysterious asteroid in a Bubble universe, populated by a very strange family, as the time-travelling drama continues.

The Doctor, Amy and Rory are given the warmest of welcomes by Auntie, Uncle and Nephew. But the beautiful and insane Idris greets them in a more unusual fashion – what is she trying to tell the Doctor? As the Doctor investigates, he unwittingly puts his friends in the gravest danger.
John Simm discusses a possible return as the Master in this video, saying he would consider it. However, despite all the recent talk, he stressed that he's had no discussions with the production team about it. [Blogtor Who]
---
Fringe
Here's an intriguing tease for the big finale death from Joshua Jackson:
"We can tell you who, but it won't matter by the end of the episode. That's not a spoiler. That's a good tease...No? That's a spoiler?"
The same story also has John Noble saying the finale will "show the world what Armageddon is like." [USA Today]
---
Supernatural
Here's the synopsis for episode 21, "Let It Bleed":
DEAN'S WORST NIGHTMARE COMES TRUE – A demon kidnaps Ben (guest star Nicholas Elia) and Lisa (guest star Cindy Sampson) to get to Dean (Jensen Ackles). Sam (Jared Padalecki) and Dean are forced to join with an unlikely ally to free them.
[SpoilerTV; check out TV Overmind for additional details.]
Here's the press release for the season finale, "The Man Who Knew Too Much":
The wall comes down in Sam's (Jared Padalecki) head and all hell breaks loose. Dean (Jensen Ackles) and Bobby (Jim Beaver) are, for once, at a total loss on how to help him and are forced to stand by and do nothing while Sam breaks. The battle for heaven comes to a head.
---
Falling Skies
TNT has released a lengthy synopsis for their upcoming alien invasion drama. Here's the first section:
FALLING SKIES opens in the chaotic aftermath of an alien attack that has left most of the world completely incapacitated. In the six months since the initial invasion, the few remaining survivors have banded together outside major cities to begin the difficult task of fighting back. Each day is a test of survival as citizen soldiers work to protect the people in their care while also engaging in an insurgency campaign against the occupying alien force, whose nature and purpose remains a mystery.

At the center of FALLING SKIES is Tom Mason (Noah Wyle), a Boston history professor whose family has been torn apart. His wife was killed shortly after the initial attack, and one of his three sons has been taken captive by the aliens for some unknown purpose. Tom must now put his extensive knowledge of military history to the test as second in command of the 2nd Massachusetts, a regiment of resistance fighters protecting a large group of civilian survivors. They are constantly trying to gain intelligence about the aliens in order to one day outsmart and overtake them and hopefully rebuild their lives.

Moon Bloodgood (Terminator Salvation) also stars as Anne Glass, a pediatrician who works with the surviving children to help them cope with the traumatic upheaval in their lives. Will Patton (Armageddon, TNT's Into the West) plays Weaver, a fierce military leader of the resistance and Tom's commanding officer.
The rest is at the link. [SpoilerTV]
---
Smallville
Here are some photos from episode 19, "Prophecy." [TV Overmind]
Justin Hartley also explains how Green Arrow and Supergirl team up in this episode:
"Oliver is faced with this cold reality that he's not going to be able to get rid of this infection just by willing it away. He goes on this journey to try to get rid of it. [Kara and Oliver] find out things about each other, that everything isn't what it seems, that you can't judge a book by its cover."
[TV Guide]
Hartley discusses how Oliver and Chloe will play into the big Lois and Clark wedding in the finale:
A lot of hell breaks loose, actually. Oliver has the Omega and turns into a totally different, disgusting person. Chloe has to figure out a way to stand by him. She does. In the end, it's interesting because Oliver has to go do his thing, and Chloe has to go do her thing, so there's a really sweet, tender moment in the finale that I think you'll like. The way it's all wrapped up is actually really beautiful. It leaves you with a warm heart.
He also says the show will acknowledge Green Arrow's famous comics pairing with Black Canary:
It sort of is. In a very warm, sweet way it is addressed because the images that you're going to see are things that could go on while the mythos of the comics is happening, with him and Black Canary. What you see on your screen in the finale, you could very well go, "Oh, I see, that would work then. That would coincide." It's really interesting and a really smart story.
There's more at the link. [TV Guide]
---
Additional reporting by Katharine Trendacosta and Charlie Jane Anders.