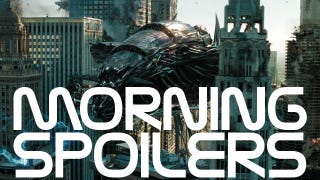 The Superman reboot casts General Zod's right-hand woman. The cast of X-Men: First Class takes us further inside the movie and their characters. Ryan Reynolds explains the tone of Green Lantern, while Emma Stone talks Amazing Spider-Man's filming schedule.
Spoilers from this point forward.
Top image from Transformers: Dark of the Moon.
Man of Steel
Relatively unknown German actress Antje Traue, who is best known for a role in the Dennis Quaid movie Pandorum, has been cast as the villainness Faora. The current speculation is that her character isn't based on the original Silver Age character - who, it must be said, was fairly steeped in Silver Age weirdness - but instead the more modern take on the character introduced in Action Comics #779 — a metahuman from the fictional Soviet breakaway republic of Pokolistan who becomes an aide to General Zod. She has the power to disrupt molecular bonds, which she uses to create a deadly mutagenic virus that Zod uses in his plan against Earth. [Variety]
---
The Dark Knight Rises
Here's a leaked photo that may or may not be a make-up test for the movie. If it is actually that, then presumably it's for Bruce Wayne's look after a big fight with Bane, but again a lot of this is supposition, and the picture might be for a totally different Christian Bale movie. [Movieweb]
India's Information and Broadcasting Ministry has reportedly given permission for The Dark Knight Rises to film in the city of Jodhpur. [Daily Bhaskar]
---
The Avengers
Someone is shopping around what is purportedly Samuel L. Jackson's copy of the shooting script for The Avengers. A posted screencap reveals a scene where the Black Widow talks to Bruce Banner, who then Hulks out. Meanwhile, a Nigerian prince also needs your help in claiming his inheritance. [Obsessed with Film]
---
X-Men: First Class
Here are some new trailers.

Nicholas Hoult explains Hank McCoy's transformation into the blue furry Beast:
"[H]e tries out a serum from Mystique's DNA to try and stop his feet from appearing apelike and massive, because he's very self-conscious about it. Unfortunately that goes wrong and he becomes the Beast that we know from the other films and cartoons and comics."
And Jason Flemyng talks about his henchman character Azazel:
"Kevin Bacon's got a team of freaky sidekicks, one of them being the fantastic January Jones, and one of them being the not so fantastic bright red Jason Flemyng, and also Alex Gonzalez who plays Riptide. And latterly in the film we recruit Zoe Kravitz as well. They're just goons, but my skill, if I have any skill at all, is to make something out of what on paper isn't too much."
There's more at the link. [MSN]
Elsewhere, Lucas Till talks some more about Havok, AKA Alex Summers:
Just like [Cyclops, he] can't control his power without glasses or a visor on, historically Alex has never been able to control his power either, so it's always been outbursts with a lack of control. In the comics he has a suit that absorbs excess energy but it was more like a meter that would tell him how much power he has, whereas in this one I have something that channels it because I can't control it myself. So I have a chest-piece that focuses the ray so I don't blow my team-mates up.
Till says the finite nature of Havok's powers limits how much he can fight in the movie, but he promises that every mutant has "a good piece of action" in the movie.
He also explains the dark side of his character:
When Havok first discovers his power in this one, it's because his foster sister has been kidnapped by a bully and who is threatening her with death and all of a sudden he comes out and kills this guy. He's a guy who likes a fight, but also, he doesn't want that much of a fight. He doesn't want to accidentally kill people, and that's something he's always got to deal with. He likes the power, but he doesn't like the lack of control he has over his ability.
[IGN]
And here's a poster.
---
Green Lantern
Here are a couple new trailers.

Ryan Reynolds says the movie incorporates elements from every era of Hal Jordan's comics career, and the movie generally is going for an insanely epic scope:
"I wandered through the art department, and that's what sold me, seeing this universe that's created and the scale of it all. They're taking the Green Lantern canon from the comics and they're extending it out into this new medium. Our goal is to make the first superhero who really goes on a 'Star Wars' kind of epic journey, and this mythology goes back a lot further than 'Star Wars.'"
He also discusses the movie's tone, and that this definitely is not a comedy:
"Tone was the biggest concern going in and then it almost became a contagion, and it became the concern of everyone and with me just harping on it. And now I feel that it's the most exciting discovery as we kept going. No, it's not dark like Christopher Nolan's Batman movies, but it isn't very light like you saw some of the [1980s] Superman movies get. The character is somewhere in the middle. He's a classic male. Han Solo, who was witty but not really funny, was one of the touchstones. It's about courage versus fearlessness and the power of willpower and the need for sacrifice and service. This is not a comedy film but like Han Solo or an Indiana Jones, there are moments where you smile and the hero can trades lines with anybody."
There's some more at the link. [Hero Complex]
---
The Amazing Spider-Man
Gwen Stacy actress Emma Stone says the movie is nearly finished shooting:
"We leave tomorrow for New York. We're doing exteriors in New York for a couple of weeks, so it'll be done in mid-May. So, yeah, it was only a six-month shoot."
She also says she still can't confirm whether she's signed for the sequel or not. [E! Online]
---
Transformers: Dark of the Moon
Here's a new teaser trailer, which mostly has footage from the Superbowl trailer as well as last December's Sentinel Prime-heavy trailer. A new, full-length trailer is supposed to be coming out this afternoon.

And here are a couple new photos. [First Showing]
---
Rise of the Planet of the Apes
Fox UK just posted the British trailer, which is pretty similar to the U.S. version.

---
Pride and Prejudice and Zombies
Latest director Craig Gillespie discusses what drew him to the movie:
What I responded to was the tone. There's so much humor and it's so loyal to the period and the dialogue and then you've got this clash with zombies. It's a fun mix.
---
Zorro Reborn
The Zorro franchise is reportedly being rebooted in, of all things, a post-apocalyptic setting. The movie will be reportedly be directed by Rpin Suwannath, who worked on concept work for X-Men: First Class, the Narnia movies, and The Matrix.
---
Piranha 3DD
In order to add a touch of class and restraint to a movie that otherwise might run the risk of being slightly ridiculous, Gary Busey has reportedly joined the cast. [ShockTillYouDrop]
---
The Incredibles 2
Pixar head honcho John Lasseter says he would love to see a sequel, but there are no plans at present. [IGN]
---
Doctor Who
Den of Geek has a glowing, spoiler-free review of "Day of the Moon" up. As it's spoiler-free, there aren't that many details, but here are some details:
* The pre-credits sequence is a record 6 minutes and 39 seconds long.
* The episode is mostly set three months after "The Impossible Astronaut."
* "The Silence are in the ascendancy, very much on top, and at times, very scary."
* There are two different plot devices involving hands and marks.
* There's a lot more on the nature of Doctor and River's relationship.
* There's a lot of fun with Richard Nixon.
* There's a massive cliffhanger at the very end that leads into the rest of the series.
Here's a slightly different trailer for "Day of the Moon."

Who's up for some more mildly crazy speculation about the finale? According to one set reporter, Amy and River Song have a crucial meeting where River is dressed in much the same uniform she sported in "The Time of Angels"/"Flesh and Stone", and according to the source this episode is actually set right after that story from River's perspective. River supposedly reveals she is Amy's mother daughter, that the Doctor's death in "The Impossible Astronaut" happened in an aborted timeline, and that the Doctor had actually been planning all along with River to escape his apparent death. The report sounds a little garbled without more context - for instance, the report seems to suggest the Doctor has died again in some way - but none of this sounds completely ludicrous. That said, I would take this all with several grains of salt until we learn more. [Doctor Who Spoilers]
On a more substantial note, the finale features a sign advertising the fact that "Pterodactyls are vermin", offering more indication that this is all set in some sort of corrupted timeline. [Doctor Who Spoilers]
---
Torchwood: Miracle Day
Here's a new teaser.

---
Fringe
Here's a pair of sneak peeks for "The Last Sam Weiss."

John Noble discusses the final episodes in this video.

---
Game of Thrones
The first major character death will happen in the fifth episode. [TV Line]
---
Chuck
Executive producer Chris Fedak confirms that Agent X is a character we already know. He also says the season finale is an epic, very expensive episode. [TV Line]
And here's a tidbit about the finale from ChuckTV:
On a sidenote, after watching the trailer for "Chuck vs. Agent X", I emailed one of my sources at NBC to exclaim over it. Although they refused to give any clues about Agent X's identity (coupled with an evil "mwahahaha"), the source revealed that this was a difficult episode to cut to promo because normally Ellie finding out would be the big deal, but that wasn't even the biggest part of the episode. Once we see who's behind that door, things just get crazier. Can't wait!
[ChuckTV]
---
Smallville
Executive producer Brian Peterson previews "Dominion."

---
Additional reporting by Gordon Jackson and Charlie Jane Anders.