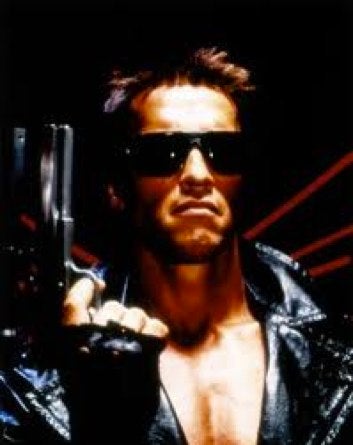 More proof that a real Terminator is hard to kill! Arnold Schwarzenegger has signed on to be in the fifth Terminator flick being directed by Fast Five's Justin Lin. Can this new film wipe Terminator Salvation from our memories forever?
Deadline is reporting that Schwarzenegger has selected his big comeback film, and it's Terminator 5. Even though the film doesn't have an official title, screenplay or writer director, Lin is already committed.
Last we heard anything about the bankrupt Terminator brand, the investment group Pacificor out-bid Sony and Lionsgate in an auction for the movie rights. And Deadline is confirming that both studios (plus Universal) are eying this new opportunity to make another film. But they'd have to start making the film by 2018 — before the rights return to James Cameron. "Rumor is the project price tag is at least $25 million upfront, against a purchase price near $36 million, not including paydays for Schwarzenegger or Lin." Should be interesting to see who snatches up this project first. Because even though everyone loves the Terminator, it's going to take a lot of marketing work to prove to the public that another film is worth checking out after McG's Salvation.