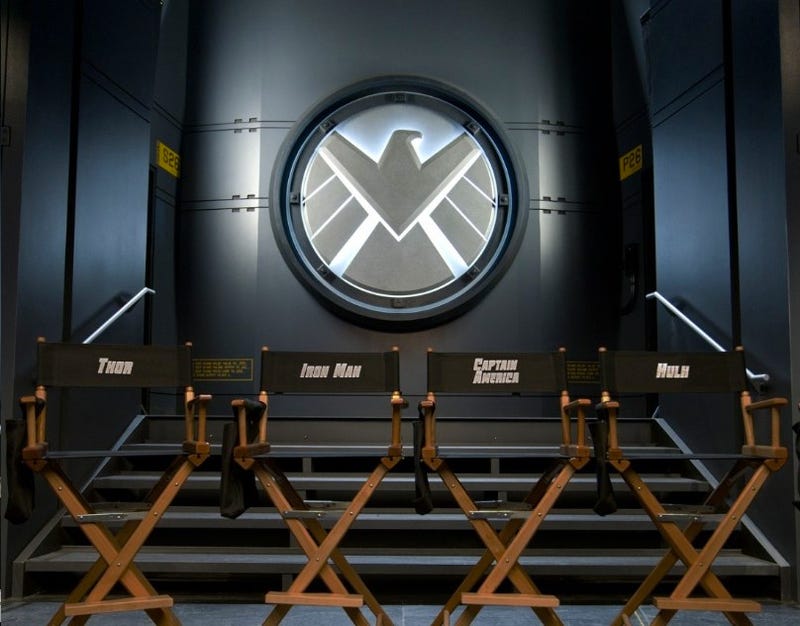 Production for Marvel's biggest superhero movie undertaking, The Avengers, began in Albuquerque, New Mexico today. Check out the first image from the set, while we pick apart the very detailed plot description.
Here's the juicy press release from Marvel:
Production has commenced today in Albuquerque, New Mexico on Marvel Studios' highly anticipated movie "Marvel's The Avengers," directed by Joss Whedon ("Serenity") from a screenplay by Whedon. The film will continue principal photography in Cleveland, Ohio and New York City. Robert Downey, Jr. ("Iron Man," "Iron Man 2″) returns as the iconic Tony Stark/Iron Man along with Chris Hemsworth ("Thor") as Thor, Chris Evans ("Captain America: The First Avenger") as Captain America, Jeremy Renner ("Thor," "The Hurt Locker") as Hawkeye, Mark Ruffalo ("The Kids Are Alright") as Hulk, Scarlett Johansson ("Iron Man 2″) as Black Widow, Clark Gregg ("Iron Man," "Thor") as Agent Phil Coulson, and Samuel L. Jackson ("Iron Man," "Iron Man 2″) as Nick Fury. Set for release in the US on May 4, 2012, "Marvel's The Avengers" is the first feature to be fully owned, marketed and distributed by Disney, which acquired Marvel in 2009.

Continuing the epic big-screen adventures started in "Iron Man," "The Incredible Hulk," "Iron Man 2," "Thor," and "Captain America: The First Avenger," "Marvel's The Avengers" is the super hero team up of a lifetime. When an unexpected enemy emerges that threatens global safety and security, Nick Fury, director of the international peacekeeping agency known as S.H.I.E.L.D., finds himself in need of a team to pull the world back from the brink of disaster.

Based on the ever-popular Marvel comic book series, first published in 1963, "Marvel's The Avengers" brings together the mightiest super hero characters as they all assemble together on screen for the first time. The star studded cast of super heroes will be joined by Cobie Smulders ("How I Met Your Mother) as Agent Maria Hill of S.H.I.E.L.D., as well as Tom Hiddleston ("Wallander") and Stellan Skarsgård ("Angels & Demons," "Mamma Mia!") who will both reprise their respective roles as Loki and Professor Erik Selvig from the upcoming Marvel Studios' feature "Thor."
So what does this say? First off it confirms the presence of Loki as a villain in The Avengers. But, what or who is this "unexpected enemy." We assume that Tom Hiddleston's character wouldn't really be pegged as unexpected, since he's set up quite properly in Thor. And we're taking note of the word "enemy" which could mean one being or many. This supports CBM's rumor about the alleged Skrull invasion happening during The Avengers. That's a lot of big bads to deal with in one movie, but an invasion of that size certainly would prompt Fury to assemble such a massive team of power, we guess. Skrulls or no Skrulls, we just can't wait to see Tony Stark, Steve Rogers and Thor trading Whedon's trademark sharp dialogue.
[via Marvel]