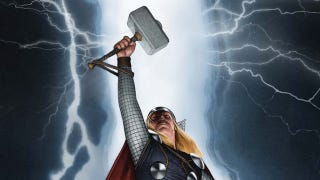 What's in stores Wednesday? A new release from Bone's Jeff Smith, new Walking Dead and Thor, and some of the most memorable Green Lantern stories ever published. Come and see!
First Issues
Just in time for the movie to hit theaters, Fear Itself scribe Matt Fraction and Oliver Coipel start up a new run on Marvel's The Mighty Thor.
And if you're a fan of 1980s horror superteam weirdness, DC is reprinting the first couple issues of Marv Wolfman and Gene Colan's cult series Night Force in DC Comics Presents: Night Force.
Other first issues include Danger Girl And The Army Of Darkness (Bruce Campbell + form-fitting clothing), Planet of the Apes (damn dirty apes + prequel to the 1968 movie), and Strange Case Of Mr Hyde (Dr. Jekyll + Jack the Ripper).
Other Releases
The standout release this week is the tenth issue of Jeff Smith's thrilling scifi comic Rasl, a rough-and-tumble tale about a universe-hopping art thief/physicist on the lam. New issues of Rasl come out once in a blue moon (and there's also a movie in development), so this is a rare treat.
As for milestones, there's the 900th issue of Action Comics (which includes story contributions from Richard Donner and Damon Lindelof), the final issue of DC's maxiseries Brightest Day, and the finale issue of Mike Carey's Age of X storyline in New Mutants. Additionally, Marvel is releasing .1 issues for Avengers and Secret Avengers to attract new readers.
There's also new installments of Batman Inc. (starring the Argentinean Batman, Gaucho), Xombi, American Vampire, Locke and Key, Doctor Who (check out our preview here), Morning Glories, Walking Dead, and FF.
Graphic Novels
The high point this week is Showcase Presents Green Lantern Volume 5, which covers a period in Green Lantern's history when he teamed up with the Green Arrow to tour America and battle social injustices. This volume includes "Snowbirds Don't Fly," a.k.a. that 1970s story about Green Arrow's sidekick Speedy getting addicted to heroin a.k.a. "My ward is a junkie!"
Another wacky reprint this week is Volume 1 of John Byrne's fourth-wall-breaking 1980s series Sensational She-Hulk, which guest-stars such characters as Xemnu the Titan and Santa Claus.
As usual, here's the list of everything being released to comic stores tomorrow, and you can find your nearest comic retailer here. Happy reading, gang!