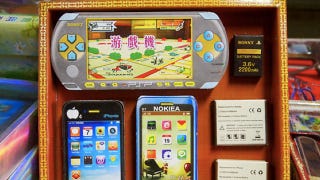 Some Taoist and Buddhist funerary traditions involve the bereaved burning facsimiles of household items so the dead can enjoy their use in the afterlife. Consequently, there are shops in Asia devoted to the sale of flammable, fake consumer products.
The bloggers at Asia Obscura recently stopped by one of these stores in Melaka, Malaysia and found (among many things), paper iPads, champagne, cigarettes, PSPs, washing machines, and pizzas waiting to be bought and burned. You can see more photos of these ghostly goods here.
And several years back, Chinese mourners were reportedly burning paper call girls and Viagra so their dead loved ones could enjoy ghostly intercourse. Do the deceased suffer from erectile dysfunction? Or is it ectoplasmic dysfunction? I'll be here all night!