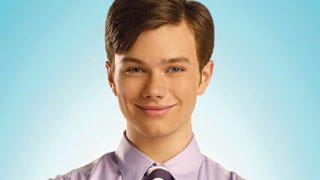 Not only was Glee's Chris Colfer just named one of Time Magazine's 100 most influential people, but he also just landed a second script deal. He's written the pilot for Disney's new series The Little Leftover Witch.
Based on the book by Florence Laughlin, The Little Leftover Witch plays right into Colfer's wheelhouse — it's a cute tale about a misfit and her struggle to fit in. Here's the book's synopsis:
Stranded for a year on the ground, after a crash landing from her broom, a little witch is taken in by the Doon family, a situation which causes compromises on both sides, many happy times, and ultimately a big change for the little witch.
Colfer told Entertainment Weekly:
"I got the book on a Friday night and I adapted the screenplay by Sunday night. I got so into it. I wrote like a 102 page screenplay in two days. The story was just so cute about this little witch that falls and gets lost on Halloween night and gets stuck with this family. I just totally fell in love with the story and the characters and then added a bunch of stuff and made it my own. Disney bought the screenplay and then asked me to develop it into a TV series."
At the moment, Colfer only has plans to write the pilot, but wants to remain a strong creative force on the Disney series. But he still has Glee, the Glee tour and his other writing gig on his plate. Because yes, the Witch series isn't the first writing deal Colfer landed — he also recently sold his screenplay Struck By Lightning. The film, which he'll be starring in, will be directed by Brian Dannelly (Saved!). Very little is known about that project, but in the same interview Colfer shed a little bit of light on the film"
I'm trying to keep it a little bit secretive. It's about all the kids in high school who are overachieving in their own right and underappreciated for it just like I was. I think it's very sarcastic and very real. I hope it goes to show that there still lots and lots of smart kids out in the world. It's about smart kids and not about stupid kids who wanna get laid and that's their biggest goal in life. We've been having tons and tons of meetings with actors and people who wanna be part of it. It's so crazy because I've had meetings with actors [who] I literally wrote the role for, that want to be in it and want to be part of it. It's a trip!
As if we needed another reason to love Colfer. He's now a triple threat: actor, singer and writer.