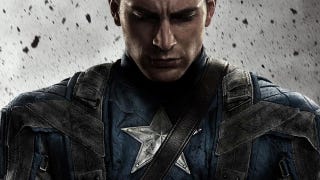 Captain America: The First Avenger did some late (and very public) shooting this weekend, and a familiar face shows up to greet Steve Rogers. Who is it? Put your star-spangled spoilers on!
This weekend, a very confused Chris Evans was seen milling about New York City's Times Square, and Samuel L. Jackson (in his Nick Fury garb) was there to greet him. Captain America director Joe Johnston was in attendance, but The Avengers working title ("Group Hug") was spotted on set as well. In any case, it appears that Nick Fury has a job offer for an unfrozen Steve Rogers, who appears chagrined that the future is a bright neon hellhole jampacked with Red Lobster and Applebee's.
Here are some photos and a video of this weekend's shoot.
[Via WENN, Reelzchannel, and EyePrime via CBM]