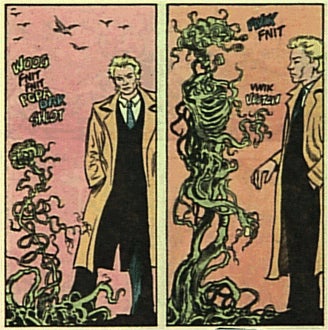 DC Comics characters like Swamp Thing and John Constantine were initially facets of the mainstream DC Universe, but from the 1990s onward, these supernatural protagonists were exiled to DC's mature-readers Vertigo line.
Nowadays, DC's editorial powers that be are relaxing this mandate and allowing its stalwart superheroes to intermingle with Vertigo's saltier, supernatural stable. Neil Gaiman's Death appeared in Action Comics alongside Lex Luthor last year, Swamp Thing played a major role in the Brightest Day event, and now streetwise London mage John Constantine is returning, presumably free to rub shoulders with Aquaman and company.
This weekend at the London Sci-Fi Festival, present Hellblazer scribe Peter Milligan confirmed that Constantine would be back in the DCU, and his return won't affect Constantine's long-running Vertigo title Hellblazer. Notes Rich Johnston over at Bleeding Cool:
And while he couldn't speak for the DC Universe portrayal, [Milligan] understands that it will basically be the same character, the same person, but it won't interfere with his Vertigo portrayal.
This approach sounds similar to how Marvel has treated the Punisher in recent times (Frank Castle's appeared in the superhero-centric Punisher and the adults-only crime title Punisher MAX). And I certainly can't gripe about more John Constantine, unless he's played by Johnny Utah.