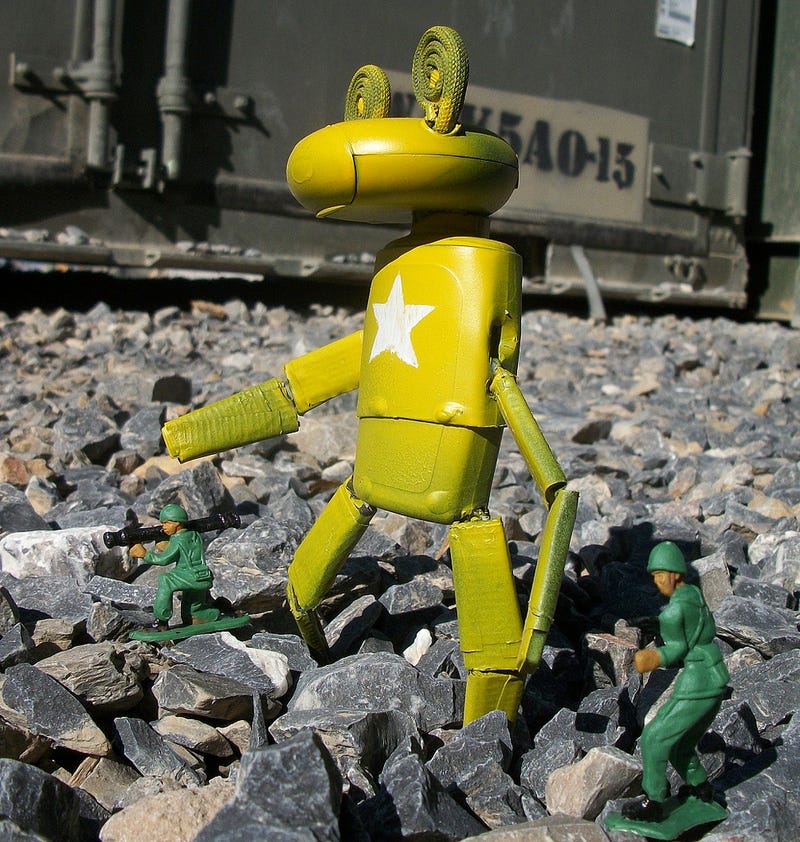 Here are some scenes from the battle front in Afghanistan — PFC Rupert Valero, stationed in Kandahar, has been creating his own action figures out of found materials. Valero, a long-time collector of six-inch action figures, has been creating his own new action figures as well as upgrading his off-the-shelf figures.
It's a tribute to DIY ingenuity — and it's also sort of trippy to see these colorful robots and toy soldiers going on missions in the harsh terrain of Afghanistan. Valero tells Another Limited Rebellion these home-made toys are a way of "staying sane in this rough place." He adds:
I love to improve 6" super-articulated action figures. I have an engineer's mentality, so nothing is ever perfect enough. So I am big on tweaking and at time breaking and rebuilding toys. The use of found items is based on what is available to me out here. Slowly, I have amassed more resources like paint and hobby tools. Assemblage has really grown on me to the point I will continue to build from found items. It will be more difficult to find large quantities of items like bottle caps. Out here, you need to hydrate, so it's more readily available than say, back home.
Check out some of our favorites here — more pics are on Valero's Flickr page, and you can buy some of his toys at his Etsy store. [via Another Limited Rebellion]