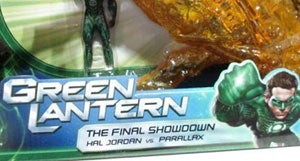 We've had a feeling that Green Lantern's final showdown would be with a certain alien menace from the comics... and the latest Green Lantern movie toy only confirms our suspicions. Check out some more spoilerific Green Lantern toys, including one Ryan Reynolds figure that recites the entire Green Lantern Corps oath.
Spoilers ahead...
Thanks to The Fwoosh we now have an even better look at Green Lantern's big baddie, Parallax (at left). Will this be the climax of the film, or will Sinestro (Mark Strong) be going bad at the very end of the film?
And in case you wanted to see a few more toys (including the Oath-reciting Ryan Reynolds toy) here are a few video roundups we found online.