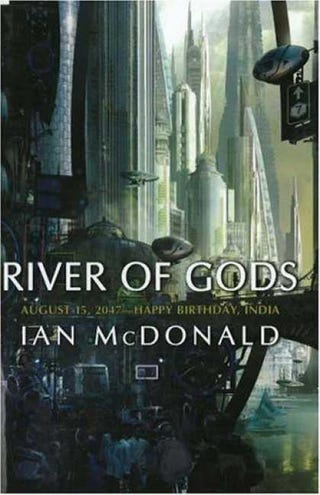 Ian McDonald's River of Gods imagines a future, high-tech version of India — so it's not surprising that Indian movie-makers are interested in putting it on film. Jai Khanna, an executive with Los Angeles production company Brillstein Partners, tells Bollyspice that a River of Gods movie is "on the fast track." According to Bollyspice:
It is one of the first works in popular fiction to imagine a futuristic India, inhabited by ancient traditions as well as artificial intelligence, robots and nanotechnology. The novel won the British Science Fiction Award in 2004. Anthony Dorment and Susan Cherian will produce. The screenplay is currently being polished, then going out to directors.
We haven't heard much about a River of Gods movie since McDonald blogged about selling the movie rights in 2005. We asked McDonald if he knew anything about these developments, and he told us:
That's about all I know —background is that Anthony Dorment optioned the Book about three years ago and his intention always was to have it made in India, rather than Hollywood.
Let's hope soon we'll be speculating about who's going to be playing Mr. Nandha and Vishram Ray.