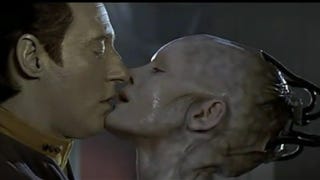 You've seen our amazing io9 collection of geeky Valentine's Day cards. Now see how the rest of the internet is celebrating the holiday of love, with a collection of our favorite ecards, the most disgusting movie kisses, and a recipe for a special chicken heart cupcake treat.
The kids over at Film Drunk compiled this amazing collection of the creepiest on-screen kisses into one fantastic compilation. Can you name each grotesque lip lock?
Can't figure out how to tell your love that you "choo choo choose them?" then say it with science with these adorable scientist Valentine's Day cards from Stephoodie.
Complete list of cards as follows:
- Marie Curie
- Nikola Tesla
- Stephen Hawking
- Ada Lovelace
- Alan Turing
- Carl Sagan
- Werner Heisenberg
- Brian Cox
Available at ETSY

Available at ETSY

Available at ETSY

Available at ETSY

Available at ETSY
But if you're looking for a more DIY Valentine's Day dinner why not serve your guests Candied Lamb Hearts wrapped in Boar Bacon cake, or chicken heart shaped cupcakes? This instructional video from Epic Meal Time teaches you how to make a truly special heart-warming meal.
Space out on getting a Valentine's Day card? Then send your sweetie a Doctor Who ecard right now.

And finally for the more dickish Valentine's Day card givers, some ecards. Here's our favorite.